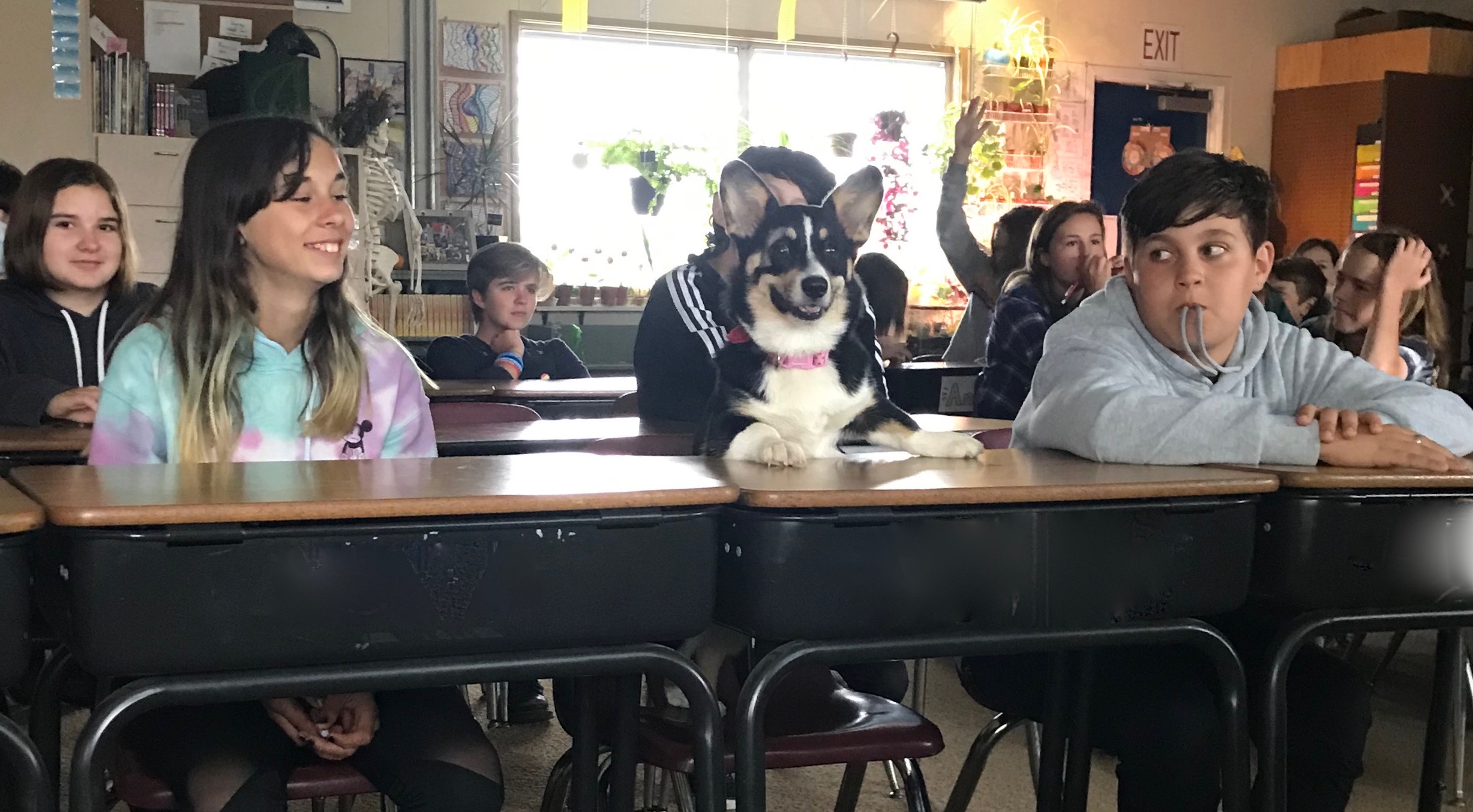 One of these students is not like the others
Dates at a Glance
May 21, 5:45pm – Board Meeting
May 21, 6:00pm - Middle School Play (NWP stage)
May 27, Memorial Day - No School
June 7, 1pm - Graduation Ceremony followed by Carnival
June 18, 5:45pm – Board Meeting (Budget/LCAP Public Hearing)
June 25, 5:45pm – Board Meeting (Budget/LCAP adoption)
VILLAGE CHARTER SCHOOL YEAR END CARNIVAL
Get up on stage....share experiences...win prizes...
Come celebrate the end of a great school year and the beginning of summer!
Friday, June 7, 2019
Our last activities of the year are coming up. Graduation and Carnival will be Friday, June 7, 2019 beginning with graduation at 1:00 pm followed by our traditional carnival. This year as part of our carnival activities we will have a TALENT SHOW. More details about the Carnival coming soon. If you want to be part of the Carnival Planning Committee, please contact Crisarlin.
The Talent Show Committee will be announcing the Talent Show to the students on next Monday's morning circle. If your kiddo is interested on participating, they need to take a short form from the office, fill it out and place it in the box identified as TALENT SHOW. This form should be completed by Wednesday, May 15, 2019. A longer and more detailed form, VCS Talent Show Participation Form, must be completed and signed by the parents, and returned to the school office no later than Wednesday, May 22nd, 2019.
Volunteer Opportunity
Hello everyone,
Volunteer opportunities for "VILLAGE CHARTER SCHOOL YEAR END CARNIVAL AND TALENT SHOW" are now open.
Please click here to go to the signup sheet.
To sign up, just follow the instructions on the page. It only takes a few seconds to do.
Thank you for volunteering!
Signups for VCS Summer Camp are OPEN
Keep your kids active and having fun this summer!
Signups for VCS Summer Camp is OPEN!
Enrollment is open on a drop in or weekly basis, OR you can join us for the full eight week session of enriching activities, games, and learning!!
Summer Camp will be Open to all 2019/2020 enrolled* VCS K-8th students
Please see the attached VCS Summer Camp sign up sheet for more details and turn in your forms in the office ASAP to secure your spot! You don't want to miss the fun!
2019/2020 School Year Calendar
Please take a look at the calendar for the upcoming 2019/2020 school year.
Registration Packet - 2019-20
Hopefully everyone has received the 19/20 registration packet sent home on Monday. If not, see the email sent on 5/13/19 - VCS - Registration forms 2019-20 or stop by the office. You only need to complete those 4 pages . Printing and signing the other forms listed are optional and in addition to the 4 pages. There were two mistakes found on the registration form. 1) On page 1, top line: school year grade should be 19/20. 2) On page 2, Income Eligibility box; the house hold size number should be shift down one line. An email explaining this was sent on Tuesday, 5/14. ALL INFORMATION ON PAGE 2 is required for Federal and State statistics and funding. Completing it now will save from having to ask you for it later. Packets are due on the last day of school, Friday, June 7.
Pick Up Safety Reminder
We strongly encourage all parents to physically come on to campus to pick up children at the end of the school day. For those of you who ask your child to wait out front we want to remind you that we (VCS and/or NWP) cannot be responsible for their safety. Any number of things can happen with them out there including you being delayed with both offices closed and no way to let them know.
Santa Rosa Community Cypher/Session
Come join Julian's community service project in an opportunity to show off your dance moves.
All are welcome even if you're not a dancer – come out to watch and support.
Dates: Sunday - May 19 from 4-6pm
Saturday - May 25 from 1-3pm
Where: Old Courthouse Square - Downtown Santa Rosa
Appreciations
Have an appreciation you wish to make? You can email it in by Friday morning to bulletin@villagecharterschool.com and it will get added to the next Bulletin.

I want to echo the sentiments regarding the incredible gifts our Parents Association provided last week. After years on the parent side, I experienced my first Staff Appreciation week. We're so blessed to have a supportive parent body year-round, but I can not express how wonderful it was to be showered with so much love and attention and a full week of special delights. It was just the boost I needed to push me through this (glorious) time of spring fever to the end of our school year! ~ Ashley Hamlett