Have something for the bulletin? Send it to Shaina at bulletin@villagecharterschool.com.

Photo by Avery B.

Dates at a Glance
Sep. 26 - Oct. 3: Conferences (Minimum Days)
Oct. 5, After Morning Circle: PA Meeting/Coffee Morning
Oct. 10, 1 pm - 2:15 pm: PA Meeting
Oct. 12: No School
Oct. 15: No School
Oct. 16, 5:45 pm: Board Meeting
Lost and Found
Dear VCS Community,
In an attempt to reduce the amount of clothes and other items in the VCS Lost and Found ALL ITEMS will be removed and donated to charity on the 1st and 3rd Friday of every month. Please take a minute to look through the Lost and Found for your children's belongings over this next week.
Thank you,
Scott Chapman, L&F Tsar
Attention Middle Schoolers and Miss. Ashley's Class
Middle Schoolers, please bring your ukuleles on Tuesdays!
Miss. Ashley's class, please bring ukuleles and guitars (if you have them) on Thursdays!
Conservation in Action
How beautifully amazing is our newly formed Schoolyard Habitat site? It truly is something to behold, our school's transformation is clearly underway! VCS, you and your tools showed up IN FORCE it was such an awesome workday! We were able to make this transformation happened because you showed up and put in the work to make it happen. On our workday we saw lots of smiles, fun, donuts, burritos, cardboard, mulch, bermuda grass and blackberries all dancing together and creating the solid foundation we now have for our school's habitat project. It already looks and feels so exciting we can barely wait until we bring it to life with the plants!!!! Stay tuned to your classrooms and this bulletin so we can let you know when exactly that planting is going to be happening. We plan to plant this fall and then plant the rest of the project in the Spring. It was so incredibly enjoyable and rewarding working on this project together with you, let's keep it up!
Thank you habitat helpers,
Hattie and Stephanie Schoolyard Habitat Co-ordinators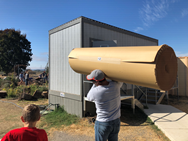 Order Yearbooks!
Yearbooks are 10% off if you preorder before October 31st!
Order here: https://www.treering.com/validate?PassCode=1014724174042747
Regular price: $20.00
Appreciations
Have an appreciation you wish to make? You can email it in by
Friday morning or just stop by the office and drop off a note in the orange
Appreciation Jar and it will get added to the next Bulletin.
"A huge thanks to Ashley for stepping up and bringing love, patience and a guiding hand to Miss Malika's class. It seems like every time there is an urgent need, Ashley is there to step up to the task. She is a wonderful asset to the school!" - Arnold
"Kudos to Jasmine for all her work in transforming the garden boxes in the courtyard into a beautiful (and hopefully bountiful) oasis. Such a welcoming space for us to gather each day. Thank you!" – Arnold
"We noticed on the September 21, 2018, bulletin some were left out for thanks while working on the Habitat. The staff and students who made it possible for parents with young children to be able to join in. We would like to thank every one who worked or gave to the Habitat it is beautiful. Our community will be able to enjoy it for a long time." - Vicki and John Stiles
"Thank you to all the families who came to the HOEDOWN, for all the delicious plates brought for sharing, and for sharing so much happiness in the dance room! It really was an evening where we got together as a community and had fun." - Crisarlin & Viki
"Thanks to all the middle schoolers and students who help with the planning and decoration in the Hoedown. YOU DID AN AWESOME JOB! And to Rebecca and Viki for always having the best attitude to help with getting everything ready for the event." - Crisarlin
"Thanks to Carlos Colón to coordinate with a friend (Trevor Hogoboom) to make an aerial video and photos of the Schoolyard Habitat. These photos and video will help with highlighting the progress as our students, teachers and parents work together to make this garden the best habitat ever!" - Crisarlin