Have something for the bulletin? Send it to: Shaina at shainamarietaylor@gmail.com
Tesseracts Lesson
Dates at a Glance
· Monday, February 12, - Lincoln's Birthday - No School
· Wednesday, February 14, 1pm - 2:15pm - PA Meeting
· Wednesday, February 14, Aikido Promotion - Miss Barnum & Miss Malika
·
Thursday, February 15,
Aikido Promotion - Miss Ashley & Middle School

· Monday, February 19 - President's Day - No School
· Wednesday, February 28 thru Wednesday, March 7, - Parent/Teacher Conferences (1:00 dismissal for all students)
· Friday, March 2, 8:30am - 9:30am - PA Coffee Morning
· Friday, March 30 - Cesar Chavez Festival/Potluck (details to come)
It's Time to Plan for Summer!
Here at VCS, we would love to offer a summer program for interested families!
Interested?
Please take two minutes to fill out the online survey (link below) or print out and return the attached paper copy (attached) to Carolyn in the office.
Link to survey (note if you answer "yes" then the other question will appear)
https://gpsi.wufoo.com/forms/vcs-summer-program/
The goal of this survey is to determine interest for a summer program. In effort to make this program flexible we are planning to offer a low hourly rate where you can, week by week, choose the days and hours for care.
Surveys are due by Friday, February 9th. Please turn them in ASAP! :)
(Please fill out survey even if you are uninterested, so we can assess school wide interest).
Questions should be directed to Shaina Taylor: shainamarietaylor@gmail.com
Notes from the PA
PA Meeting - Wednesday 2/14 from 1:00-2:15
Thank you all who came out in the chill to enjoy some coffee, biscuits and warm conversation with friends this morning.
A reminder that we will be having the next PA meeting on February 14th at 1:00 pm in the VCS Library.
The PA is very excited to hear back from the Community about the possibility of having a summer program here on campus. What a great way to continue to build and work on our community and friendships in this safe and welcoming environment we already all know. Hope you will all take the time to fill out the survey either online or a paper option is available as well in the office whether you are interested in participating or not.
We will review Winter Solstice and other December topics brought up at the meeting. Also we have upcoming events to go over, Cesar Chavez and Empty Bowl, as well as some new topics such as a Fundraising Rummage Sale and VCS Summer Care options that parents have asked to discuss.
Aikido Promotions
Aikido promotions will be held this month at New School Aikido, 880 Piner Rd #55, Santa Rosa
Class will be held at 5:30-6:30 pm
Promotion will take place at 6:30-7 pm (ending time is approximate; it is dependent on the number of students that participate)
Students must sign up on sheet outside of their classroom to participate.
Miss Barnum's class Wednesday 2/14
Miss Malika's class Wednesday 2/14
Miss. Ashley's class Thursday 2/15
Mrs. Montrose's & Mr. Robbins' class Thursday 2/15
Playground Help Needed
We are still looking for some help in the playground!
Calling all parent who love to play! We are looking for some help on the playground. Morning recess times 10:20-11:00
Please consider dropping in to play a game of tag, soccer, jump-rope or bring some new games to the field. We are needing some supervision help and help bringing some games and activities to the children.
If you can help us out please be sure your fingerprinted and check in at the office before going to the yard!
Please contact Miss Malika if you can help!
Order Yearbooks
Don't forget to get your order in for your yearbook! Pick up order forms in the office or follow this link to place your order and customize 2 free extra pages for your child's copy: https://www.treering.com/validate?PassCode=1014724174042747
Your personalized yearbook only costs $20.00.
Yearbooks are printed on high quality 100% recycled paper in beautiful full color.
For each VCS yearbook sold, Trees for the Future plants a tree in our school's name.
Complete your 2 free custom pages no later than April 23.
Custom pages are optional, if you don't customize you'll receive a standard yearbook.
Order your yearbook by May 7 to get free bulk shipping with the rest of VCS!
The Yearbook Staff could always use additional photo coverage! If you take any photos at school events, on field trips, or even of just regular campus activities and classwork, please email them to emmakerfoot@gmail.com any time throughout the school year, or drop them off in person on a memory card, flash drive, or CD.
Enrichment
Pirate Choir - Songs-of-the sea, dress like a pirate, sing for seniors and probably for the sailors on a Tallship as well! ! $5 per session (payable to Miss Barnum). Thursdays 3:10-4:10pm. Sign up on Miss Barnum's Door
If there is anything you as a parent would/could contribute we would love to hear about it, contact Lauren, at lcyxprs@aol.com and let her know.
Tutoring
Emma is available to provide on-site tutoring on Wednesdays from 1:30 to 2:30. Her rate is $30 an hour, which is flexible depending on the subject(s). You can reach her at emmakerfoot@gmail.com.
VCS VOLUNTREE!
Our tree is gaining more leaves! Thank you for Volunteering/Donating to our school!
The LEAVES represent our family Volunteer Hours/Donations, the time and energy we give toward the school's growth and abundance. Leaves will be added each month in correspondence to community members' time (ideally 1 hour per week/4 hours per month). So, make sure to sign in and log your hours in the office!
Thank you for helping VCS blossom!
*If you need suggestions on where and how to volunteer, contact VCS Volunteer Coordinator Katie Hanneman @ katieheffron@gmail.com.
Fundraising
Reminder to sign up with eScript and AmazonSmile, easy ways to earn $$$ for our school!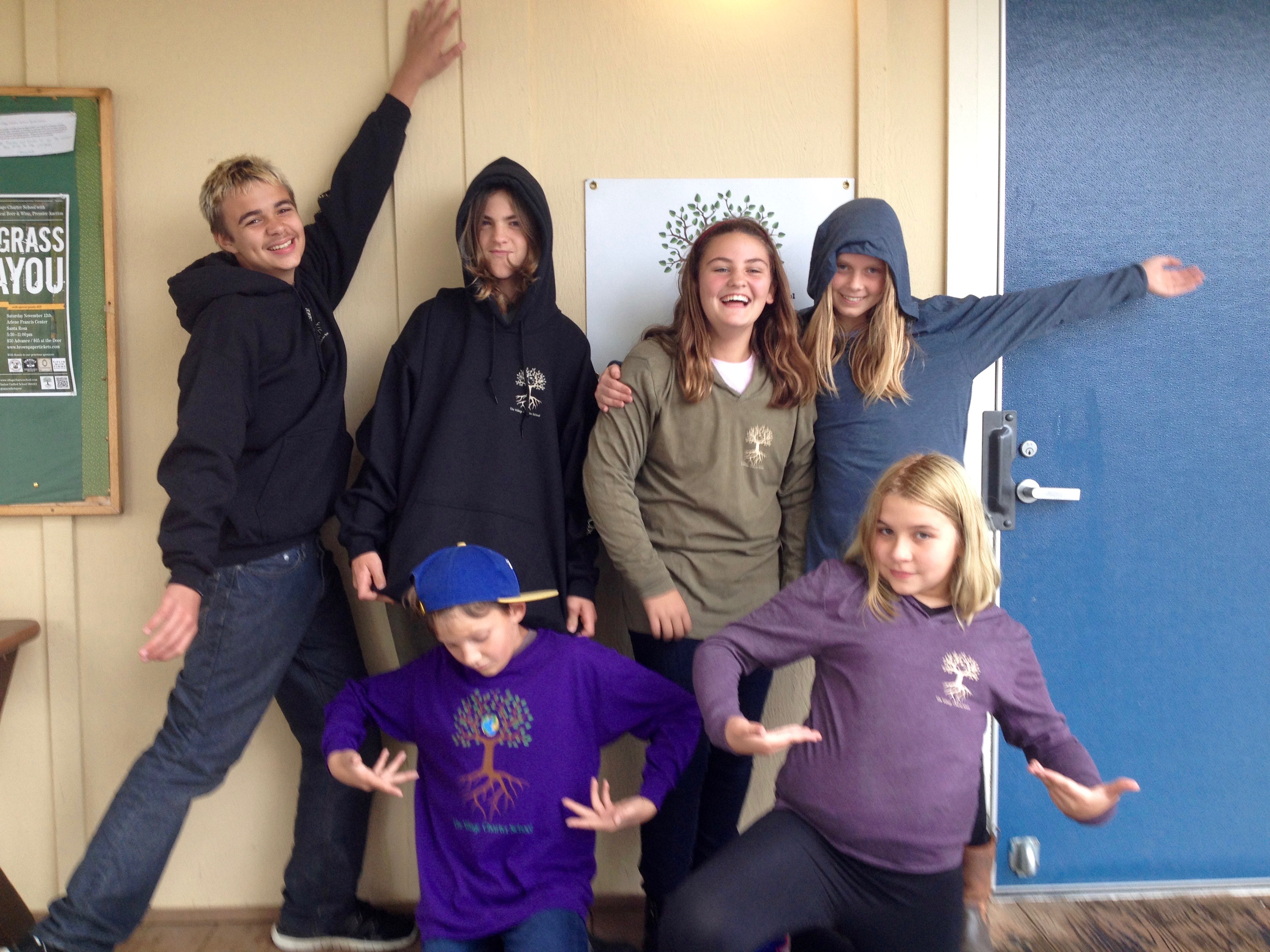 VCS Gear
Looking for a little something extra? Something cozy? Something to show your Village Charter pride? :) Stop by the office and grab a Village Tee Shirt, Sweatshirt or Hoodie (and support our special school as a bonus). Lots of styles, sizes and colors to choose from for kids and adults.
Kids T-Shirts - $15
Adult T-Shirts - $20
Sweatshirts & Hoodies - $30
Appreciations
Have an appreciation you wish to make? You can email it in by Friday morning or just stop by the office and drop off a note in the orange Appreciation Jar and it will get added to the next Bulletin.
"So many thanks and appreciations to Amy, Deneene, Denise, Stephanie, Viki, and Ash! Our class field trip could not have happened without your help and support. I am thankful for your wonderful energy and enthusiasm, which helped to make the day brighter. Thank you, thank you, thank you!" ~Ashley!