Have something for the bulletin? Send it to Shaina at bulletin@villagecharterschool.com.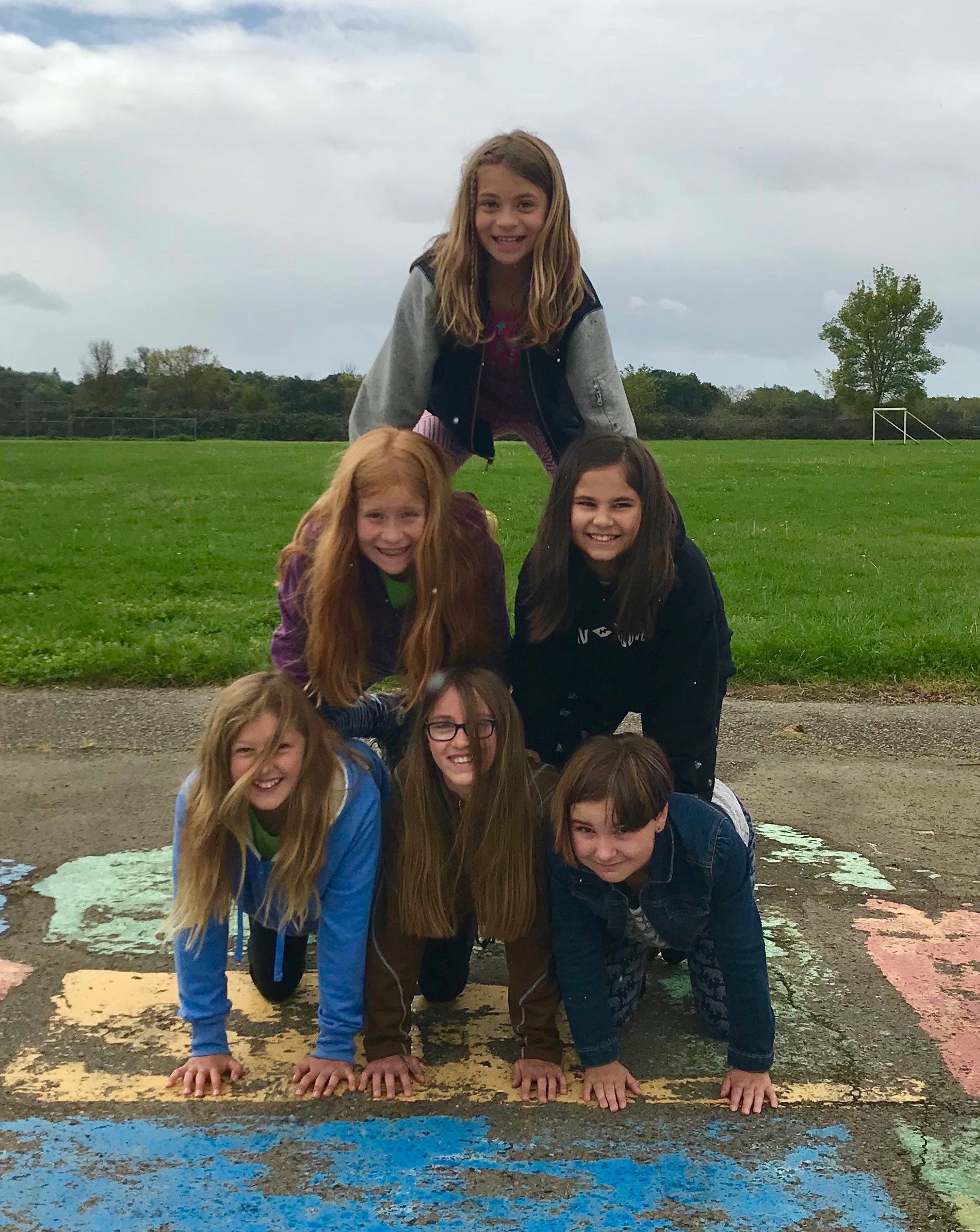 Building a human pyramid
requires great Cooperation. 😀
Or is it Organization? 🤔
Dates at a Glance
· April 18th, 1pm - 2:15pm - PA Meeting
· April 18th, 5:45pm - VCS Board Meeting
· April 21st, 9:30am - 11:30am - Creek Clean-A-Thon!
· April 23rd - April 27th - Teacher Appreciation Week
· May 4th, 8am-9am - PA Sponsored Coffee Morning
· May 9th, 1pm - 2:15pm - PA Meeting
· May 28th - Memorial Day (No School)
VCS Summer Camp Program is Open for Enrollment
Need something fun to do this summer? Look no further!
The VCS Summer Camp will be filled with fun activities, and interesting outings. Children will be able to choose their activities in the many open studios, go on afternoon adventures such as field trips and group projects, and stay with their Village community of friends!
Studios include:
➢ Fiber Arts such as knitting, weaving, needle-felting, sewing
➢ DIY Toy-making
➢ Music
➢ Gardening
➢ Art Journal
➢ Inventor's Workshop (a maker's space filled with reclaimed materials, students can create whatever they wish with the available materials)
➢ Outdoor and indoor Games
The new VCS summer program will be an 8-week program beginning June 11 and running until August 3rd. The program will be from 8am to 5:30pm. Each week will be themed around a different ecosystem around the world. Of course, since this is Village there will be art, and music, hikes and other fun activities. Incoming students (Kinder and up) will be welcome to participate.
Deadline for sign up is May 18th
– if there is not enough enrollment by this date camp may have to cancel – let's not let that happen!
To learn even more specifics, such as hours and pricing, check out the sign up agreement and detailed description.
5th Annual VCS Creek Clean-a-Thon
The Clean-A-Thon is happening Next Weekend!
Hope you all had a nice week off, and were able to gather some pledges for our 5th Annual Creek Clean-a-Thon fundraiser. Did you fill in your pledge sheets and color the thermometer too?
Remember this year all the money from your sponsors needs to be turned in Friday, 4/20 before the event. That is only 1 week away so get out and get those pledges.
As a reminder, you and your family can make your pledge online through PayPal.
Also a big THANK YOU to all our Business Sponsors:
Vantreo
American Tile & Stone
Mr. Rooter
DryScape
BigGreenIT
Art & Soul Music School
Envirichment
Screamin' Mimi's
Simply Southern Sweets
Chris Maccario Landscape
Trees for a Change
Ryan's Custom Crating
ToyWorks
City of Santa Rosa Recreation & Parks
Monday, April 23 - 27 is Teacher and Staff Appreciation Week
This week is an opportunity to show our staff and teachers how much we appreciate all they do for our children all year long. Each day of the week a special "something" has been planned to honor and recognize their work. WE WILL NEED YOUR HELP to make it happen. A sign up sheet will be posted for you to sign up and contribute. Also, class reps will be forwarding a note requesting your help.
TSAW (Teacher and Staff Appreciation Week) Committee,
Catherine, Crisarlin, Claudia, Jeri, Laurie, Lauren, Mariah and Viki
Monte Rio Triathlon
Sunday, June 10 - Volunteers needed. MONTE RIO TRIATHLON. Our school has a chance to support runners at a station and get a grant for the school.
Hi, I'm recruiting volunteers for the Monte Rio Triathlon, next June 10th, 2018 from 8:00 am to 12:00 pm. The volunteer's job is at the FINISH LINE. The finish line will be located in the parking lot directly in front of the Monte Rio Community Center. As racers finish, volunteers will assist with removing timing chips, handing out race medals, assisting athletes to the medical tent, if necessary, and assist with timing.
If you are interested in volunteering for this event please go to this link: https://vmodcui.active.com/volunteer/jobs?eventGroupId=831301 Once in the site, go to June 10th Finish Line.
Please let me know of any questions you have. I would like to get all volunteers signed up ASAP :-). If you know someone who is or may be interested to join our team of volunteers, feel free to forward this message.
Thanks!!!
Crisarlin
Finish Line Captain
National Library Week
Check out this document regarding National Library Week, for fun activities to gear up for summer reading!
Help Wanted
Donations and Volunteer Support Needed
Jars Needed
The PA is looking to the community for jars - about 32 oz size with no labels. Mason jars are great. Lids are not required. We are looking use these as vases for the flowers for teacher appreciation week in May.
Garden Group
It's time to get the garden growing! Have you noticed that our beautiful village garden is beginning to take shape? Come and join us on Friday afternoons at 2:00 for some gardening fun! Weather permitting, so this Friday may be canceled due to rain, but we will resume after the break (Cesar Chavez festival is the following Friday). Also, we are looking for pots or planters of any shape or size if you have any extras lying around.
Facebook Group for Parents
Did you know?? Village Charter School has a parent-run Facebook group. Click here to add yourself to our small parent-run page. Share ideas, reminders of activities/holidays/events, ask questions, and get to know other parents!
Order Yearbooks
Don't forget to get your order in for your yearbook! Pick up order forms in the office or follow this link to place your order and customize 2 free extra pages for your child's copy: https://www.treering.com/validate?PassCode=1014724174042747
Your personalized yearbook only costs $20.00.
Yearbooks are printed on high quality 100% recycled paper in beautiful full color.
For each VCS yearbook sold, Trees for the Future plants a tree in our school's name.
Complete your 2 free custom pages no later than April 23.
Custom pages are optional, if you don't customize you'll receive a standard yearbook.
Order your yearbook by May 7 to get free bulk shipping with the rest of VCS!
Photos Wanted
The Yearbook Staff could always use additional photo coverage! If you take photos at school events, on field trips, or even of just regular campus activities and classwork, please email them to emmakerfoot@gmail.com any time throughout the school year, or drop them off in person on a memory card, flash drive, or CD. Presently, our greatest photo needs are:
Field Trips!
Gardening
Recess/Games/Sports
Music
Spanish
Drama/Plays
Visual Arts (drawings, paintings, collages, etc.)
Projects (dioramas, labs, etc.)
Upcoming: Cesar Chavez Festival
Upcoming: Creek Clean-a-Thon
Appreciations
Have an appreciation you wish to make? You can email it in by Friday morning or just stop by the office and drop off a note in the orange Appreciation Jar and it will get added to the next Bulletin.
"I am in deep appreciation to our teachers and staff for weaving such amazing learning around history's peacemakers these last many weeks, and to Claudia, Crisarlin, Catherine, and all of the parents whose attention and hard work brought Cesar Chavez, Dolores Huerta, and the UFW struggle and accomplishments to life for our community. And a special muchisimas gracias to the mariachi brothers and the amazingly inspiring Alicia Sanchez who never fails to bring tears along with laughter and awareness to her experience and storytelling. I love our school, and I love this event!
And, if I haven't said it lately--thank you, Shaina, for rocking the weekly bulletin! I appreciate the effort it takes and I appreciate you for taking it on." -Deneene

"I appreciate Claudia for all of the amazing Cesar Chavez events she has organized. It has really taught me so much more about his life and legacy, and Dolores' as well." - Ash