Have something for the bulletin? Send it to: Shaina at shainamarietaylor@gmail.com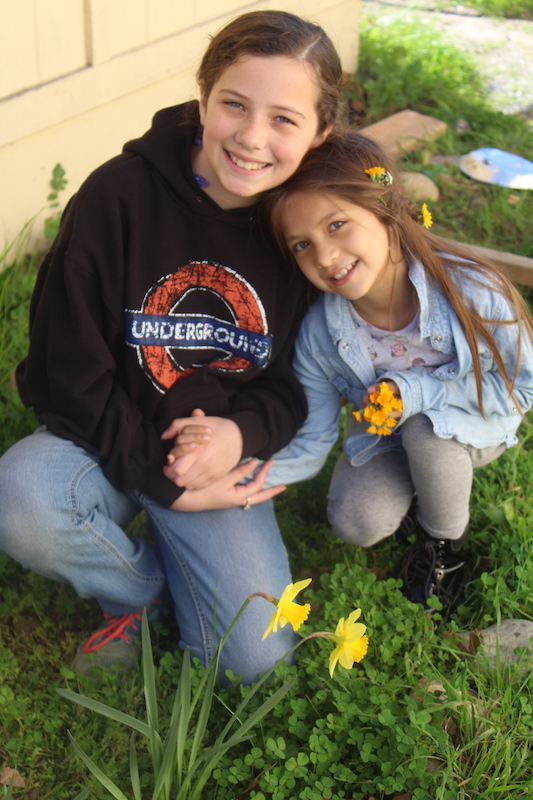 Happy Spring!
Dates at a Glance

· March 23rd, 1:00pm - Film-screening of "Dolores"

· March 23rd, 2:00pm - Garden Group

· March 28th, 3:30pm - Schoolyard Habitat Team Meeting

· March 30th, 4:30pm - Cesar Chavez Festival/Potluck

· April 2nd - April 6th - Spring Break (No School)

· April 21st, 9:30am - 11:30am - Creek Clean-A-Thon!
Will you need Morning Extended Care on Friday?
Will your child need AM Extended Care on Friday, March 30th? If the answer is YES, you must contact the office or E/C staff with their expected time of arrival. Friday, March 30th is the day of the Cesar Chavez Festival with school starting at 10:00 am. The E/C staff would like to plan on proper coverage for students arriving at school prior to 10:00 am.
Garden Group
It's time to get the garden growing! Have you noticed that our beautiful village garden is beginning to take shape? Come and join us on Friday afternoons at 2:00 for some gardening fun! Weather permitting, so this Friday may be canceled due to rain, but we will resume after the break (Cesar Chavez festival is the following Friday). Also, we are looking for pots or planters of any shape or size if you have any extras lying around.
Schoolyard Habitat Team
The schoolyard habitat coordinator from School Garden Network will be coming to our campus this Wednesday, March, 28 at 3:30 to look at our garden space and see if we meet requirements for funding. If you are interested in being on the habitat team or have input, ideas or resources for a project like this, please come and join us!
Facebook Group for Parents
Did you know?? Village Charter School has a parent-run Facebook group. Click here to add yourself to our small parent run page. Share ideas, reminders of activities/holidays/events, ask questions, and get to know other parents!
Cesar Chavez Festival

Festival Update
The 4th through 8th graders were able to participate in the showing of the documentary Dolores.
Had more fun practicing songs today with the Mariachi Band. The classrooms are all getting ready for this exciting festival that is happening next Friday! How this month has flown by with all the amazing activities.
There will be a potluck after the festival, the theme is Mexican so dig out those Enchilada recipes, flan or bring something for the taco bar. There is an online sign up available https://www.volunteersignup.org/7MBCK it includes ideas for some food items as well as helping to set up. There will also be a paper sign up on the bulletin board with the Festival flyers on Monday. The VCS Potluck Guidelines are also attached below if you would like to review them.
Hope to see you, your family and even friends and the great community event celebrating Cesar Chavez.
The Cesar Chavez Festival is Friday, March 30th at 4:30pm in the VCS Field! Weather permitting, please join us for an afternoon of festivities, a community potluck and speaker Alicia Sanchez, who worked closely with Cesar Chavez. You won't want to miss the live Mariachi band, featuring VCS students singing along!
The school day has been adjusted to accommodate this festival, noted on the VCS calendar and bulletin.
Watch this month for further details from your child's teacher.
The PA will also send requests on ways you can help and get involved.
5th Annual VCS Creek Clean-A-Thon
A Quick Update:
As we wrap up the festival we also are gearing up more for the Creak Clean-up Fundraiser. We will be having representatives (including some of our middle schoolers) going into the classrooms next week to get the kids excited about this event.
SAVE THE DATE! It's time to start planning for the Village Charter School's
5th Annual Creek Clean-a-Thon on Saturday, April 21th, from 9:30am-11:30am.
Have a special passion for our school's environmental mission? Want to help spread the word about our commitment to environmental education and community? Once again, we have a very special opportunity to support our children's environmental awareness and education WHILE serving our larger Santa Rosa community AND raising critical funds. All while having tons of fun!
We are again asking students and their families to participate in three ways:
1. The first is by collecting donations/pledges for our school in support of our creek cleanup work. If each student gets $120 in pledges, we will easily reach our goal of $10,000 for our school!
2. The second we are looking to procure local Community/Business sponsors who would be interested in making a tax-deductible donation toward our event (and having their business featured in our event promotions and on our event tee shirts).
3. And last, is to attend the event and be the "people-power" cleaning the creek.
Even if you cannot attend the cleanup day, please still promote our school's efforts by collecting donations/pledges in support of the event.
Check out the information and forms below, and visit the Creek Clean-a-Thon's Facebook Page.
Creek Clean-a-Thon Letter to the Community
Creek Clean-a-Thon Sponsorship Letter
Enrichment
VCS Run Club
VCS Run Club will meet again Monday, March 26th at 3:15 pm
Join us every Monday @ 3:15pm for an easy 3-4 mile run. All running levels are welcome, girls, boys, moms, dads, aunts, uncles, grandmas, grandpas…
It's free, no sign up needed, just bring your running sneakers, a smile, and good attitude to have a good sweat. We will be leaving from the VCS campus at 3:15 PM.
For more information contact Crisarlin Vázquez.
Parking
Please remember that the small lot is for staff parking and YMCA use only. VCS parents and visitors are to use the large lot.
Help Wanted
Fairy Garden Help - I am looking for someone who has an hour or two to help me with a project in my magical garden. Maybe next week after the rain lets up. Any time of day is fine. Please just email me or come on by the classroom.
Thank you,
Miss Malika
Floor Lamps Needed - Miss Malika is looking for a couple of floor lamps to use in the classroom. Do you happen to have one in the garage or unused or in your give away pile?
Order Yearbooks
Don't forget to get your order in for your yearbook! Pick up order forms in the office or follow this link to place your order and customize 2 free extra pages for your child's copy: https://www.treering.com/validate?PassCode=1014724174042747
Your personalized yearbook only costs $20.00.
Yearbooks are printed on high quality 100% recycled paper in beautiful full color.
For each VCS yearbook sold, Trees for the Future plants a tree in our school's name.
Complete your 2 free custom pages no later than April 23.
Custom pages are optional, if you don't customize you'll receive a standard yearbook.
Order your yearbook by May 7 to get free bulk shipping with the rest of VCS!
Photos Wanted
Do you have photos of the Craft Fair, Harvest Hoedown, Girls on the Run, field trips you've chaperoned, or anything else from the 2017/2018 school year? The Yearbook Staff could always use additional photo coverage! If you take photos at school events, on field trips, or even of just regular campus activities and classwork, please email them to emmakerfoot@gmail.com any time throughout the school year, or drop them off in person on a memory card, flash drive, or CD.
Appreciations
Have an appreciation you wish to make? You can email it in by Friday morning or just stop by the office and drop off a note in the orange Appreciation Jar and it will get added to the next Bulletin.