Have something for the bulletin? Send it to: Shaina at shainamarietaylor@gmail.com or cscarlisle@gmail.com
Dates at a Glance
Carpentry Class
· Tuesday, November 21 - End of Trimester - Report Cards
· Wednesday, November 22 thru Friday November 24 - Thanksgiving Break - No School
· Friday, December 1, 8-9am - Coffee Morning
· Friday, December 8, - Craft Fair - Some details below, more to come
· Wednesday, December 20 - Winter Solstice - Details to come
· Thursday December 21 to January 5 - Winter Break - No School


NY Sponsor - Jericho High
Hello Village Families,
It's been over a month since the fires and, yet we are still reminded daily that 'it takes a village' to heal, that we can't do this alone. In this spirit, Jericho High School in New York has reached out to support our community by writing cards and fundraising for our school's families affected by the fires. Cards are in the office to be read first by teachers and then distributed to classrooms. If parents would like to also read them, you are welcome to; they are on Rebecca's desk. It is nice to know children around the country are thinking about our children and supporting us. This was a kind act. If anyone feels moved to write the students back, I will send cards/emails back to them. Here's to healing together.
Warmly,
Lauren
(Ella and Micah's mom)
Resource List
The list includes info on FREE bikes, beds, acupuncture, music, animal care and more, for families affected by the recent fires. Click here to view or download the list.
Here are two additions:
1. Photo Shoots available for FREE on 11/25, 11/26, in SR, by Laura Turbow, East Bay photographer coming to a home in Brush Creek.
2. Art & Soul offering monthly Healing ARTS classes, for all ages, on a drop-in basis for all affected by the fires. First class, Thursday, Nov. 30th, 5:30-6:60pm. Please call to reserve your space: 707-575-7701.

School Schedule Change
PLEASE READ
After much discussion with the staff and PA, starting Monday 11/13, we are officially changing the start and end time for each school day (see schedule below). This adjusted schedule not only addresses the traffic/parking situation, but more importantly, allows us to maintain the sense of community on campus that is key to our school's culture. VCS has never been a "drop-off" school. VCS needs the parents here--in our classrooms, lingering and talking after the bell, hanging out while the kids play basketball, joining us in morning circle and Friday coffee...the list goes on. So, thank you. Thank you for all the adjustments you have already made, for your flexibility and creative thinking. And thank you for embracing this 15 minute shift in your day. - Rebecca
School Hours
Kindergarten
8:15 a.m. – 1:00 p.m. - Daily
1st – 8th Grades
8:15 a.m. – 2:45 p.m. - Monday, Tuesday, Thursday, Friday
8:15 a.m. - 1:30 p.m. - Wednesday
The new school schedule will be effective this Monday, November 13th, 2017.

Parent Giving Program
Due to some unforeseen issues, the automatic withdrawal system for the monthly pledge amount has been unable to function for the past two months. As of now, it is back on track, but there will be no retroactive billing without your permission for these missed payments.
Our school does depends on these donations in order to cover the costs of enrichment programs, staff support, festivals, office supplies and other general operating expenses, and has been running under the projection based on these pledges. You are welcome to bring cash or check for any missed payments to Carolyn if you would like to keep up on your payment.
Community Event Invite
There is a FREE Open Studios event this Friday from 5 - 8. Seth Richardson, a VCS parent, has recently been accepted by the Fulton Crossing Gallery on River Road to have his design studio/office/showroom there! This is a great opportunity to meet all the artists showing here as well. Milo (Miss Malika's class) will be showing some of his work in the studio shortly as well! He is so excited about it!
This is a really fun event and the artists run the gamut from jewelry to sculpture to furniture to paintings to encaustic...come by and check it out!
Also, feel free to pass this along to anyone else that you think might be interested in attending outside of our community.
Come run with us and support the VCS Team!
Girls on the Run Sonoma County 5k
Family Fun Run
Saturday, December 2, 2017 at 9:00 am
SOMO Village, North Parking Lot
1400 Valley House Drive, Rohnert Park CA

Lace up your shoes and join nearly 300 Girls on the Run girls from all over Sonoma County in this non-competitive family fun run that is open to the whole community! Families and friends, men and women, boys and girls of all ages….even strollers are welcome (no dogs please)! It is a wide, flat, tree-lined course that loops around the SOMO Village property. The course is completely paved, with views of the surrounding farmland and beautiful Sonoma Mountains. Anyone from the most competitive runner to the recreational walker can participate, so come rain or shine to….run, walk, or cheer!
Online registration is available at www.gotrsonomacounty.org. In person registration and packet pick-up at Fleet Feet, Santa Rosa on Friday, December 1 from 11:00 - 6:00 pm. Race Day registration is available from 7:30 am - 8:45 am.
Extended Care
Please use EC only if it is a necessity. Space is limited and while we are still able to provide this service, it will be challenging to manage high numbers of students especially as the weather shifts.
We ask that you not use E/C for play dates. Now with limited space this is more imperative than before.

Rainy Weather
Fall weather is finally on its way! We have several extra pairs of rain boots available at school. You can inquire in the office if they are needed.
A reminder per the handbook: Every day our children go outside, rain or shine. Children may get wet and sometimes muddy. It is important that they have appropriate rain gear. Every child should have a hooded rain jacket and rubber boots. There will be a space in every classroom for rain gear to be kept at school.
VCS VOLUNTREE!
The VCS tree is a symbol of strength, nurturing, protection, rootedness, and growth. It is this tree that represents the life experience and education our children receive at the Village. And when VCS is supported by our community's energy, time, and resources, we are nourishing the tree and helping it to flourish.
It is in this spirit that we have created the VCS Voluntree so that everyone can be reminded of its meaning and witness their part in helping it grow:
The ROOTS represent our Parent Giving Program + the Fundraising we do for our school's financial foundation and sustenance. They will grow to show our giving support each month.
The LEAVES represent our family Volunteer Hours/Donations, the time and energy we give toward the school's growth and abundance. Leaves will be added each month in correspondence to community members' time (ideally 1 hour per week/4 hours per month). So, make sure to sign in and log your hours in the office!
Thank you for helping VCS blossom!
*If you need suggestions on where and how to volunteer, contact VCS Volunteer Coordinator Katie Hanneman @ katieheffron@gmail.com.

Donations & Volunteer Support
Playground Help Needed
Calling all parent who love to play! We are looking for some help on the playground. Morning recess times 10:20-11:00
Please consider dropping in to play a game of tag, soccer, jump-rope or bring some new games to the field. We are needing some supervision help and help bringing some games and activities to the children.
If you can help us out please be sure your fingerprinted and check in at the office before going to the yard!

Yearbook
The Yearbook Staff could always use additional photo coverage! If you take any photos at school events, on field trips, or even of just regular campus activities and classwork, please email them to emmakerfoot@gmail.com any time throughout the school year, or drop them off in person on a memory card, flash drive, or CD.

Craft Fair
Want to help with the VCS Craft Fair tradition? We have started organizing, planning and looking at crafts and materials needed. If you would like to be a part of this community event please let Crisarlin or Lilia know, a supply list is posted below if you would like to help by donating items you already have to this event. PLEASE don't feel like you have to buy them! Crisarlin's email crisarlin@gmail.com.
SUPPLIES NEEDED FOR CRAFTS
There will be a donation box for supplies in VCS Office Room 31, and a sign up sheet on the bulletin board.
1. Succulents – tiny starts
2. Wood - Branches and disk (round ornament shape)
3. Tissue Paper
4. Mason jars (smaller)
5. Gem stones (self adhesive preferred)
6. card stock
7. Clear glass ornaments
8. Rocks 2-3" in size
9. String (colored)
10. Twine
11. Wire
12. Magnets


Tutoring
Emma is available to provide on-site tutoring on Wednesdays from 1:30 to 2:30. Her rate is $30 an hour, which is flexible depending on the subject(s). You can reach her at emmakerfoot@gmail.com.

Order Yearbooks!
LAST CHANCE!
If you order your 2017/2018 VCS Yearbook early, you can get a special early bird discount!
The completed yearbooks will be delivered no later than the last Monday of the school year (6/04/18).
(Regular Price: $20.00)
November 1st - November 30th = 5% Discount
Pick up order forms in the office or follow this link to place your order! https://www.treering.com/validate?PassCode=1014724174042747

Fundraising
Reminder to sign up with eScript and AmazonSmile, easy ways to earn $$$ for our school!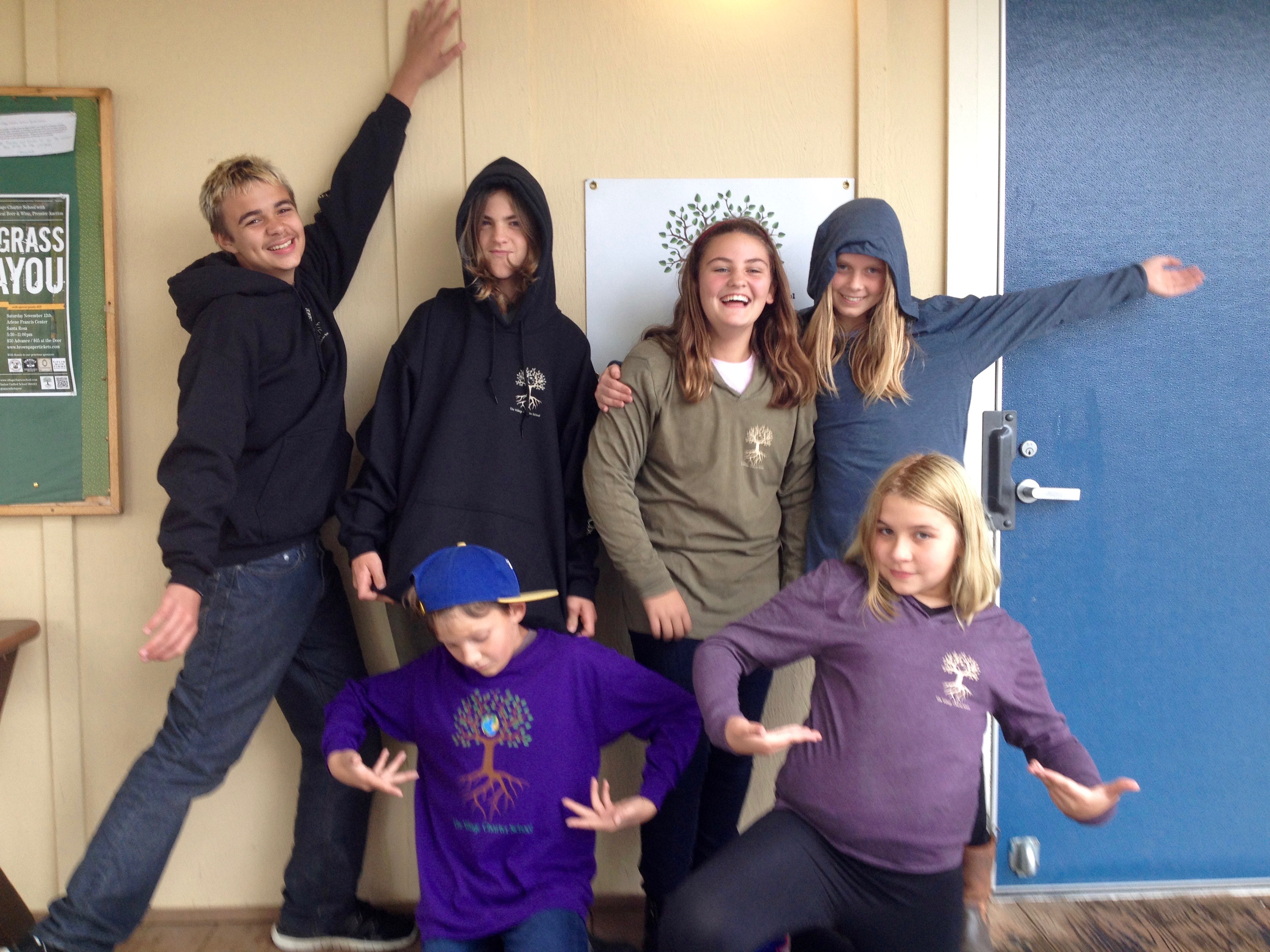 VCS Gear
Looking for a little something extra? Something cozy? Something to show your Village Charter pride :-)? Stop by the office and grab a Village Tee Shirt, Sweatshirt or Hoodie (and support our special school as a bonus). Lots of styles, sizes and colors to choose from for kids and adults.
Kids T-Shirts - $15
Adult T-Shirts - $20
Sweatshirts & Hoodies - $30
Appreciations
Have an appreciation you wish to make? You can email it in by Friday morning or just stop by the office and drop off a note in the orange Appreciation Jar and it will get added to the next Bulletin.

Thank you, Ed Flores, for the loan and construction of the "Yoga Tent" so the kiddos can continue to breathe, stretch, and move during the rain and chill. And thank you, Rebecca and Benji for helping me assemble it today! - Deneene

Michelle Barnes, a big Thanks, for Volunteering for the open Monday Morning Greeter position. - Catherine

Thank you to all the parents who are showing up for the PA meetings! - Deneene

Thank you to everyone helping to facilitate the drop-off and parking situation in the mornings! - Deneene

Big appreciative shout-out to the Yearbook Staff--Annie, Bella, Brenna, Ella, Emily, Sarai, and Millie--for assisting with taking school pictures! They've been hauling tripods and reflectors and seating back and forth, escorting students to and from the photography area, keeping records of absences to do make-up photos, and inspiring lots of big smiles! You're an awesome team. I'd also like to give appreciation to Opal and Catherine for loaning us equipment, and to Miss Barnum for the most pivotal loan of all: her camera! Thank you all for making Picture Day happen!