Dates at a Glance
Friday, 4/23—No School
Monday, 5/3—Start Added Short Day Schedule
Friday, 5/14—No School
Tuesday, 5/18—Board Meeting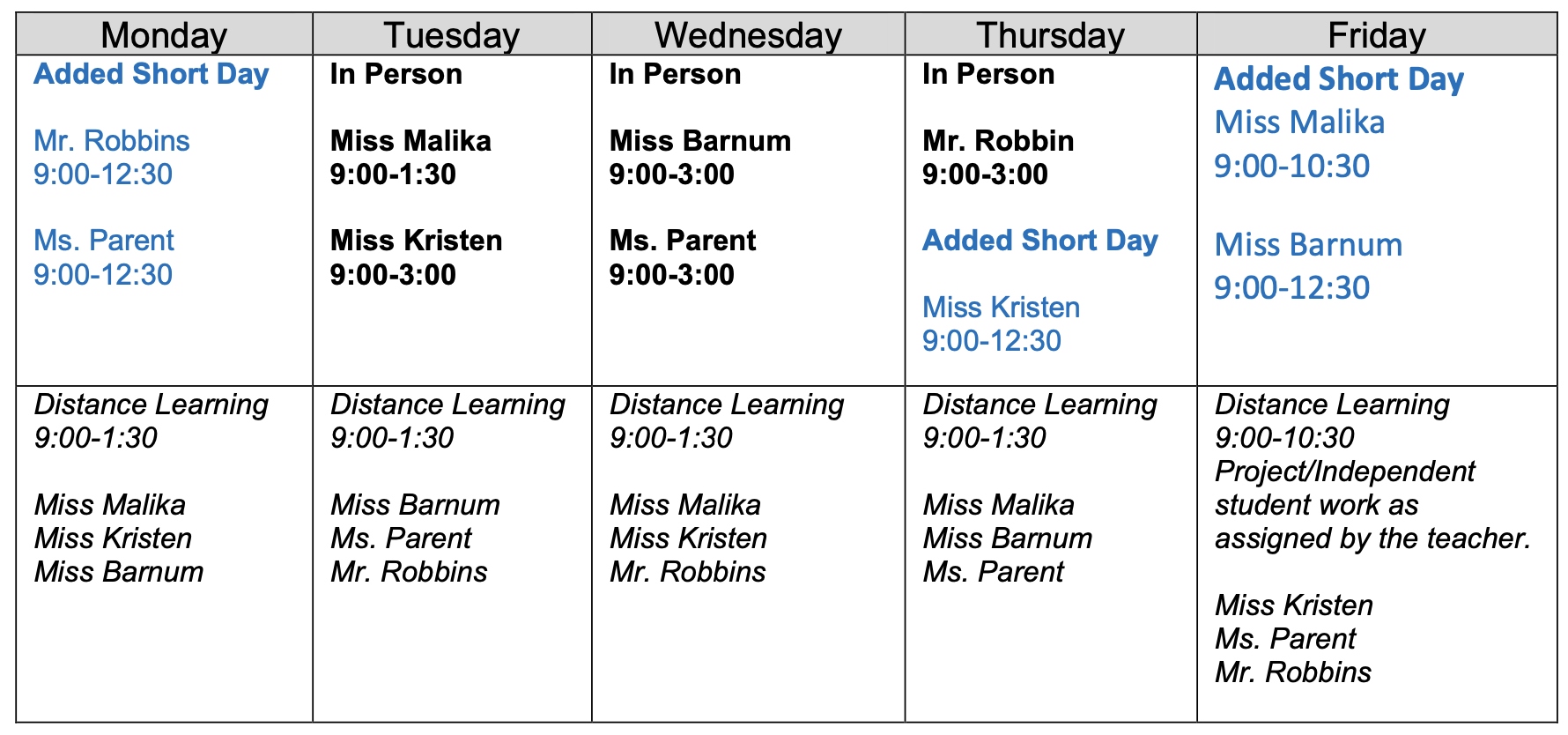 Please contact Rebecca at rlivanoff5@gmail.com if you have questions.
Packet Pick-up/Drop-off
We can no longer have parents come onto campus on Fridays.
All packet pick-up/drop-off will be coordinated with your child's in-person day(s). Parents can come onto campus to pick-up/drop-off school work after 5:00PM and on weekends.
**Extra Home Health Screening forms can be found on the table outside the office**
Creek Clean-a-Thon
We r Strong! We r Mighty! 430 pounds of trash we did fighty-fighty! Thank you to everyone that found time in the day to take care of the earth. It was a beautiful day full of joy, laughter and trash collection! See our Facebook page and website for photos. Hats off to Stephanie, Claudia, Viki, Crisarlin, Ashley and Lauren for making it happen!
School Garden Network Fundraiser!
Here is a promo code for you if you are interested in viewing School Garden Networks event tomorrow April 22nd from 5-6. The Village is one of the gardens we talk about and Mr. Winter made the cut! Osha and Seva are pretty cute in it as well.
https://www.eventbrite.com/e/spring-bloom-sowing-and-growing-in-support-of-school-garden-network-tickets-142572005707
Promo code: SGNSUPPORTER
Feel free to share this with anyone.
Thanks- hope you can attend!
Amber Napoleon (Osha's mom)
Yearbook
The 2020/2021 VCS Yearbook needs photos!
Email all of your VCS 2020/2021 photos to
erobbins@villagecharterschool.com
. Please include the name(s) of students pictured and additional caption information if needed.
Summer Camp 2021—June 16-July 30, 8:00-5:00—IT'S A GO!
Coco and Mr. Matt will be offering VCS Summer Camp beginning June 16, 2021.
With safe guidelines for students and staff, students will be given the opportunity to socialize, learn new skills, and enjoy outdoor adventures and play. Cost: $1000-full summer; $350-2 weeks or 10 day drop off; $200-single week or 5 day drop off.
Thursday, April 22nd @ 6pm:
Support the school we share our site with!
Northwest Prep Charter School 2021 Spring Academic Exhibition & Senior Project Exhibition
Academic Exhibition Driving Question: How can we employ empathy and technology to bring hope?
Topic: NWP Spring 2021 Academic Exhibition
https://pousd-org.zoom.us/j/91035400262
Webinar ID: 910 3540 0262
Appreciations
Thank you, Josh Landis and Alex Leibert, for the beautiful new compost bins and weed-eating! Our campus is coming together!
I appreciate you all for being on time, having your paper work ready, being patient, and bringing warm smiles and humor to the drop-off/pick-up line.
NEW: Support Our Community, Create More Connections
VCS wants to support our families' small businesses by sharing your business information with the community. Please fill out this Google form or print the form and email to Rebecca with your business information (applies to both if you own the business or you are an employee). Your business information will be announced on the VCS web page and Facebook.

https://ameliachapman.cabionline.com/ Amelia Chapman

http://www.cornerprojectales.com The Adamian Family


https://www.artandsoulschool.com The Kushins Family



https://bohemianroots.net/ Lauren Racusin McSweeney



http://brandflowmarketing.com Naomi Catalina



https://wildsageyoga.com/ Deneene Bell