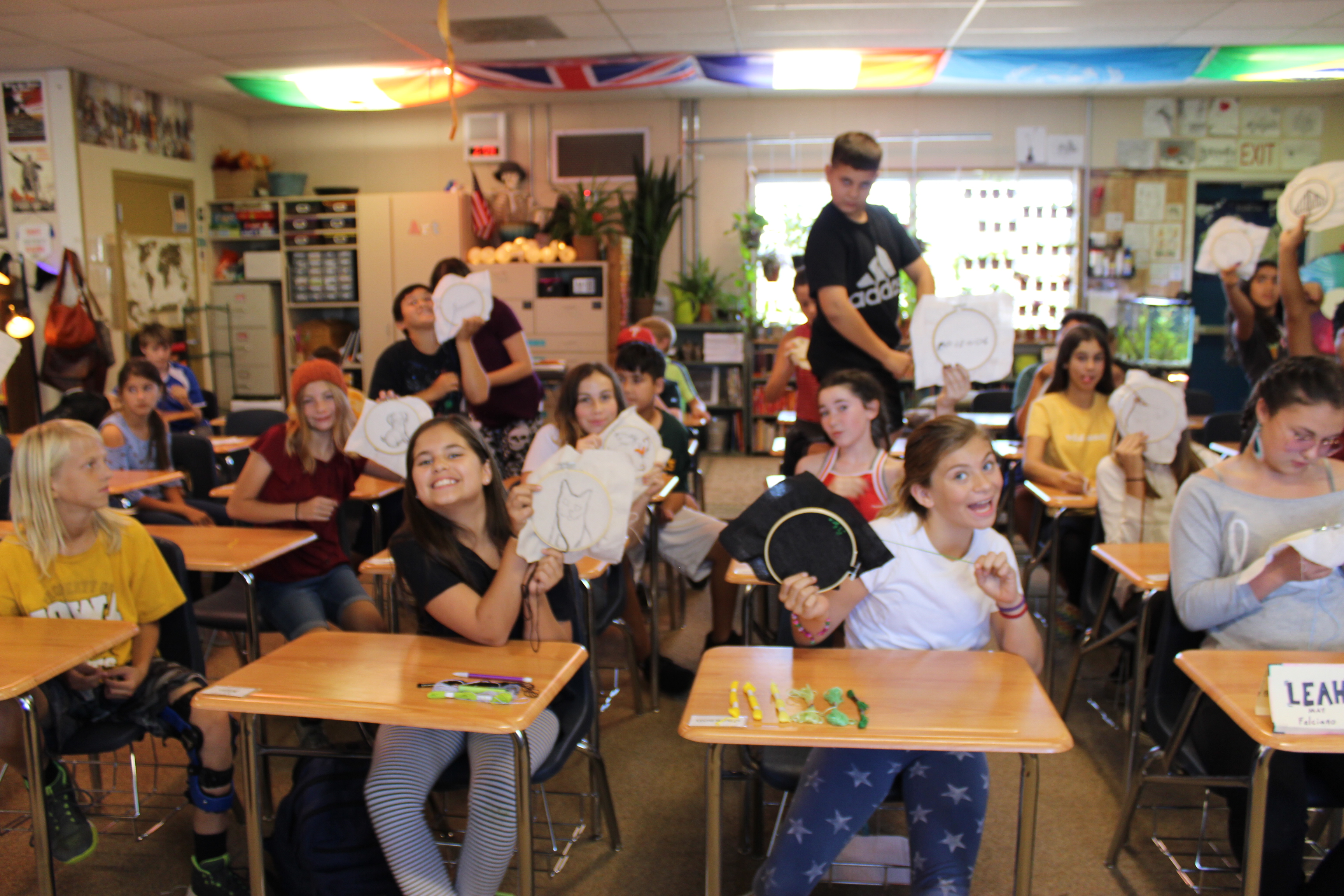 Embroidery

Dates at a Glance
Monday, October 28th - Whole School Photo - During morning circle
Friday, November 1st - Pumpkin Walk - Regular school day
Monday, November 11th - Veterans Day (No School)
November 27th - November 29th - Thanksgiving Break (No School)
Whole School Photo - 10/28 at Morning Circle
Be a part of the whole school photo on Monday, October 28th at Morning Circle.
Don't be late!

Call for Assistance
Dear Village Community,
Do you still need to put in some parent participation hours?
I am looking for a parent to assist Ms. Ashley in leading our gross motor program. Please consider helping with a fun set of classes that are not only exciting but also help students build confidence, balance, cross lateral connections and focus. And, all that supports their language development too!!!
6 Thursdays from 9-10:15 (This is a wonderful group of children and a wonderful opportunity)
Please let me know if you are interested!!! I could really use your help-
Miss Malika
Reminder to Parents From Rebecca
I am noticing that, as the school year progresses, adherence to some of our school policies is becoming a bit lax. As a community, we have agreed to certain standards around diet, behavior, technology and clothing. These policies inform and shape the culture of safety, health and, mindful practices that are the foundation of our community. Please remember that support of these policies starts at home.
DRESS CODE
The Village Charter School guidelines for school dress are based on matters relating to health, safety, good school organization and deportment. Safety and cleanliness are important. Items disruptive of the school's learning environment should not be worn.
Clothing: Please send your child to school in clothing that helps support his/her learning. All clothing should be free of images or language that is distracting, violent, drug or alcohol related, aggressive or media based. Shorts and skirts must be fingertip length. No spaghetti strap tank tops or crop tops that expose midriff.
MEDIA
In order to support the work of our teachers to create and maintain an environment that cultivates imagination, wonder and beauty, we ask that you limit your child's exposure to electronic media (i.e. TV, video games, etc.). Our school purposefully avoids media input. We support the use of media and technology for instruction on a very limited basis. As a rule, videos, DVD's and computers are only used in the middle school classroom to support the curriculum.
CELL PHONES AND ELECTRONIC DEVICES
Cell phones and personal entertainment devices (i pods, electronic toys, etc.) are not allowed on the school campus. If we find a student with one of these items we will hold it in the school office and return it to a parent at the end of the day.
FOOD
Snacks/Lunches: We encourage you to send your child to school with snacks and lunch that are whole foods rather than processed foods. This helps guarantee that preservatives and processes which remove the nutritional value of foods are not present.
· Whenever possible, send the food in recyclable and reusable containers, reducing landfill waste.
· Send as much protein as possible to support brain function.
· Please do not send food high in sugar or with corn-syrup.
· Water only.
· If your child brings highly processed food or a sweetened beverage, s/he will be asked to put it away and to save it for the ride home at the end of the day.
· Chewing gum and candy are not allowed.
Lunch Containers: Lunch containers or thermal bags must have a lid that closes securely. Label your child's reusable containers or bag. Please do not have media images on lunch containers.
Halloween Reminder
Here at The Village Charter School we DO NOT celebrate Halloween. The children DO NOT wear their costumes nor do we have a Halloween carnival or parade. In following our school policy, candy/treats are to be left at home. Friday, November 1st is a regular school day.
Pumpkin Walk - Friday, November 1st at 6:30 P.M.
The Pumpkin Walk is an opportunity for our community to get together and celebrate the October/Halloween season in a more innocent and magical way than the mainstream scare-fright fest. First, we assemble around a campfire and tell stories, sing songs, and do dances of the season.
The Fairy Garden and Big Garden are lined with lit pumpkins, candles (LED only) and twinkle lights for the kids to explore as the sun goes down.
Hot apple cider and simple snacks will be served and (sometimes the most memorable part of all) the children can play into the night amongst the twinkle lights and pumpkins.
Your part? (Besides bringing your children) Please bring a carved pumpkin (with LED light inside). The more the merrier! It is what makes the magic!
And please DO come! It's old-fashioned, it's memorable, it's what your heart has been longing for!
Copperfield's - Money for Schools
Copperfield's Books is holding a fundraising weekend to raise Money For Schools. Mention Village Charter School at checkout and they will donate 25% of your purchase to our school!
Yearbook Photos & Cameras Wanted
Do you take pictures around campus, at events, while volunteering in classrooms or chaperoning field trips? Contribute them to the yearbook!
Please send in all the 2019/2020 VCS pictures you can supply--the more, the better!
If you have an old point-and-shoot digital camera lying around, don't let it be obsolete; donate it to the middle school! There are more eager student photographers this year than ever, but we only have four cameras to share among them. Compatible battery chargers and wrist straps are necessities. An SD card is not required, but extras would be welcome.

Yearbooks
Save 10% on your 2019-2020 VCS Yearbook by pre ordering before October 31st!
October Discount: 10% off
November Discount: 5% off
https://www.treering.com/validate?PassCode=1014724174042747

Appreciations
Have an appreciation you wish to make? You can email it in by Friday morning to bulletin@villagecharterschool.com and it will get added to the next Bulletin.
- We want to thank the staff for taking care of Emily after she crashed and burned on Thursday Oct. 17, 2019. We really appreciate it. - John and Vicki Stiles