Dear VCS Families,

Welcome to our first day back in 2020. I have so many things I want to say, but after being up all night evacuating, I will shorten this to a few bullet points.

First, I want to offer my most sincere words of gratitude to all of the first responders and essential workers that have been working tirelessly on our behalf since 2017. Over the last several unprecedented years, I know each one of us has been touched in some way by their courage, hard work, and kindness. Thank you.

Next I want to thank my teachers and staff. Actually, I'd like to extend that thanks to all educators as we begin this school year. PLEASE, parents, remember that none of us went into teaching with Distance Learning in mind. It challenges us daily and more often than not, we are left feeling like failures. I have watched my staff work into the night and through their summer to create an experience for your children that is meaningful, dynamic, and personal. So, please, practice patience and kindness. Zoom will glitch out. We will have PSPS days and rolling black outs. Best laid plans will fall short. But the relationships and school community will hold roots and the children will be fine.

Many of us are also parents and/or caregivers and are facing the same challenges as you. The balancing of work and family is often overwhelming. We, too, are trying our best and when we fall short, we will do all we can to make it right.

Two to three weeks. That's what I am asking. Please give us 2-3 weeks to get settled. Two to three weeks to iron out the glitches. Your job will be to make sure your child(ren) is up and on Zoom by 9:00. After that, please, let the teachers guide them and support them. Try your hardest to step back and consider this a regular school day. I know the younger students need more support, but still try to direct them to the teacher and aide as much as possible for guidance and direction. This school time should be a bit of a break for you.

Trust. Trust in the VCS community. Trust in our intentions. Trust that just because we are online, that our mission and vision is still here, it just has to look different for awhile.

The following is a summary of the learning models available.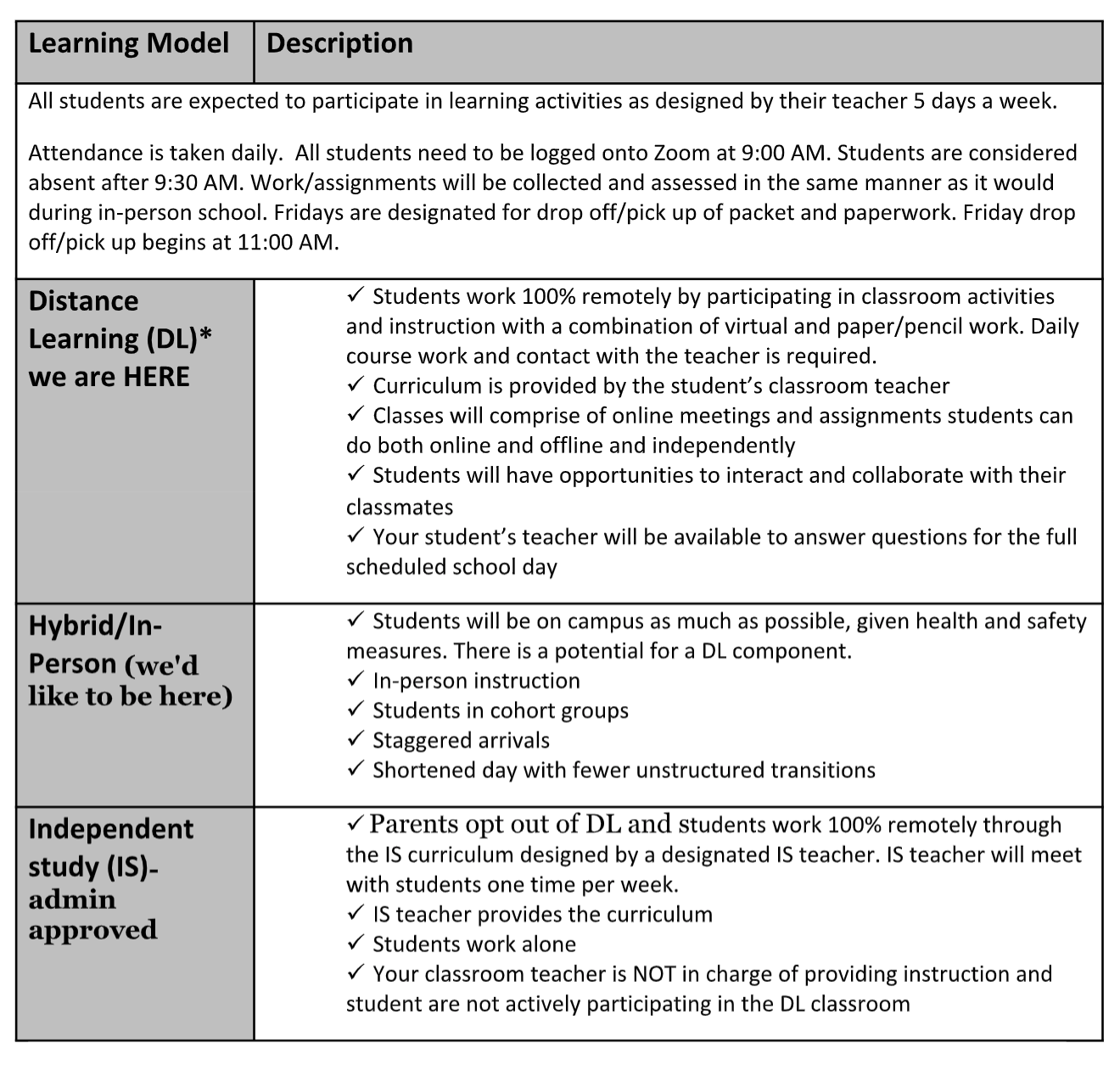 I know there is more. I will try my best to answer all your questions as they come to me. If you are a family currently impacted by the fires, my heart is with you. Don't stress about school. Be safe and take care of your crew.
Thank you for reading this.

Rebecca Ivanoff, Director
Distance Learning Standards

Following a spring trimester of loose distance learning expectations for schools across
California, the state has sets clear standards for fall instruction and student attendance.
The following is an outline of key points regarding DL standards that VCS will follow.

Daily live interaction required
Teachers will have to connect with their students each school day through online
instruction and/or phone check-ups.

Taking student attendance
Schools must take students' attendance and participation under distance learning, or
risk losing state funding. Students who don't participate will factor into schools' chronic
absenteeism figures.

Minimum instruction
Students must receive a minimum amount of daily instruction that can be met by a
combination of teacher instruction and "time value" of work assigned.
- 3 hours per day for kindergartners.
- 3 hours, 50 minutes for grades 1-3.
- 4 hours for grades 4-12.

Serving students in need
Schools have to provide the "accommodations necessary" to serve students with
special needs. Speech and Language and RSP support will continue to be provided as
defined by a student's IEP. We will also continue to provide one-on-one early
intervention for reading and math as needed.

No set requirements for live instruction
The state does not mandate a minimum daily amount of synchronous, or live,
instruction, though experts strongly suggest it be a part of students' distance learning.
VCS teachers will be working directly with students via Zoom Monday through
Thursday, starting at 9:00 AM with additional hours for teacher check-ins (AKA office
hours). Fridays will be reserved for packet pick-up/drop-off and check-ins with
individual students and parents.

Preventing disengagement
Schools must form a plan for re-engaging students who are absent from distance
learning for more than three schooldays a week. VCS will be reaching out regularly to
support students who are struggling with attendance and will work to find instructional
methods that address individual needs.

Checking families' connectivity
Schools will have to ensure that students and families have the devices and connectivity
necessary to participate in distance learning, or make accommodations if they do not.
VCS will make chrome books available to all students that need one. Check out days for
chrome books will be announced by email.

Weekly engagement records
An additional data requirement, schools must keep "weekly engagement records" noting
how much synchronous or asynchronous instruction a student has received. VCS will
be collecting course work on a weekly basis and maintaining academic and
participation/attendance records.