Have something for the bulletin? Send it to Shaina at bulletin@villagecharterschool.com.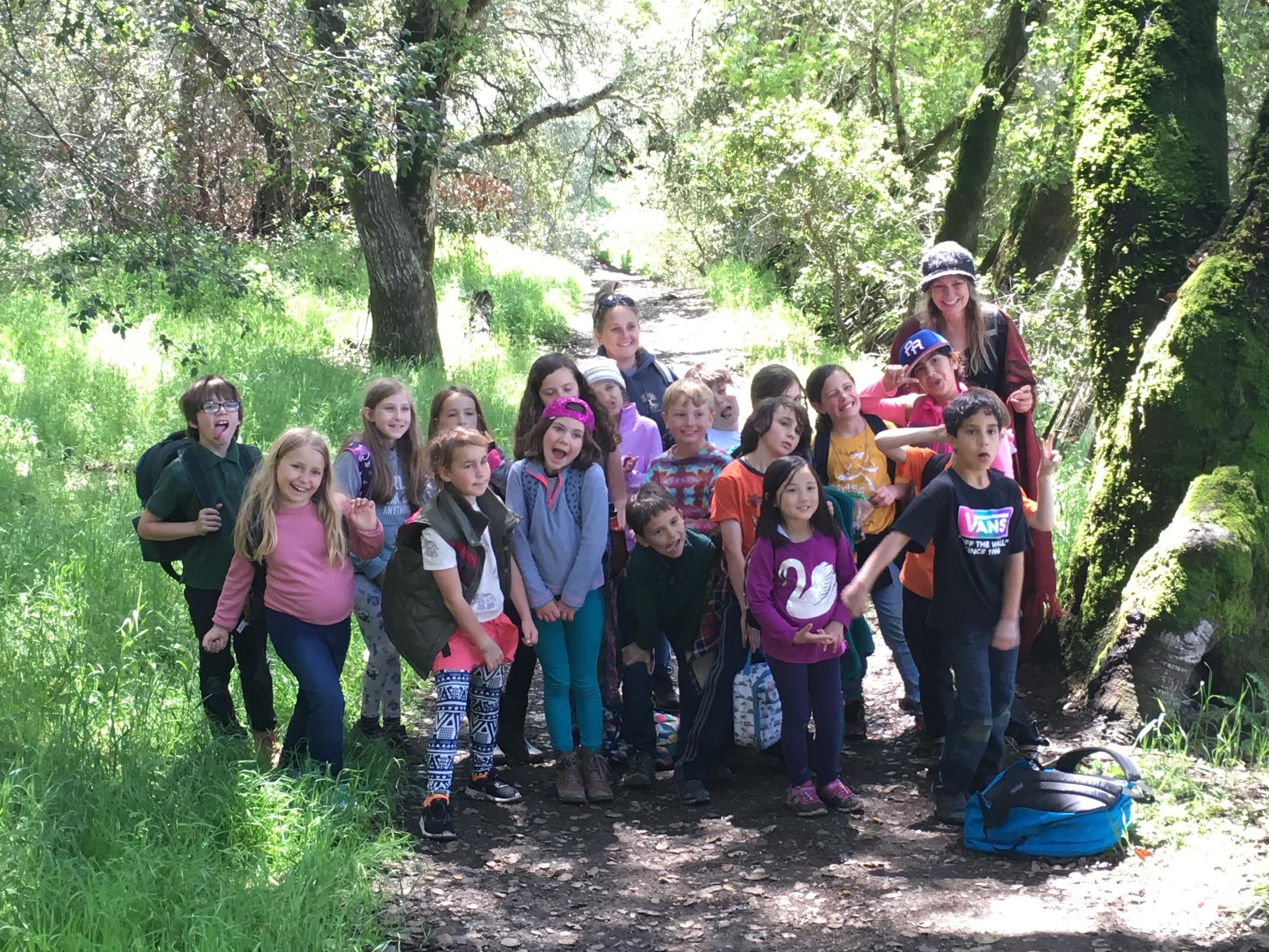 B²'s Class at Shiloh Park
Dates at a Glance
· April 21st, 9:30am - 11:30am - Creek Clean-A-Thon!
· April 23rd - April 27th - Teacher Appreciation Week
· April 30th, 5:45pm - Meeting with Rebecca
· May 2nd, 1:00pm – Meeting with Rebecca
· May 3rd, 5:45pm – Meeting with Rebecca
· May 4th, 8am-9am - PA Sponsored Coffee Morning
· May 9th, 1pm - 2:15pm - PA Meeting
· May 28th - Memorial Day (No School)

5th Annual VCS Creek Clean-a-Thon
Tomorrow! Saturday, April 21st, 9:30 -11:30
Come & Join the VCS Community Community Cleaning!
Time: 9:30am-11:30am
Location/Address: Youth Community Park 1689 Fulton Rd., SR
(meet at VCS and take the path by the vernal pools to creek or meet us at the park)
Creek Conditions: Don't forget your rain boots, sunscreen, water, and wear pants and long sleeve shirts. There will be poison oak and mosquitoes, along with some wet conditions!
Check-In: Once you arrive, make sure to check in to get your t-shirt and raffle ticket!
Stay after for an icy cool treat and a fun raffle for the kids! Bring a picnic lunch and stay awhile!

Teacher and Staff Appreciation Week
(April 23rd through April 27th)
It's that time of year when we pause and say thank you to all of the staff that make our Village so special.
The following links allow you to sign up to help or donate to Smoothie Tuesday, Breakfast Thursday or Lunch Friday:
Smoothies, Breakfast, Luncheon!
Refer to a note sent out by class reps regarding Cards and Flower Wednesday.
Thank you in advance for all of the gracious help and appreciation you share with our staff; we couldn't do it without you!
TSAW (Teacher and Staff Appreciation Week) Committee,
Catherine, Crisarlin, Claudia, Jeri, Laurie, Lauren, Mariah and Viki
VCS All-School Meetings
When: Monday, April 30, 5:45 pm*
Wednesday, May 2, 1:00 pm**
Thursday, May 3, 5:45 pm*
*No child care available for evening meetings
**E.C. rates apply for Wednesday meeting
Location: VCS Computer Lab/Library
Topics: This will be an opportunity for Q and A on Budget, Parent Pledge, Parent Involvement, and Student Engagement
Being a part of an Independent Charter School provides not only a unique educational experience for our children, but is also a new (and sometimes challenging and confusing) experience for us as parents. It is my goal that, by hosting three (3) meetings at a variety of different times, every Village family will be able to attend.
I invite everyone to bring their ears, hearts and ideas to at least one of these meetings!
Rebecca
VCS Summer Camp
Enroll Now! Deadline for sign up is May 18th.
The VSC Summer Camp will be filled with fun activities, and interesting outings. Children will be able to choose their activities in the many open studios, go on afternoon adventures such as field trips and group projects, and stay with their Village community of friends!
Studios include:
➢ Fiber Arts such as knitting, weaving, needle-felting, sewing
➢ DIY Toy-making
➢ Music
➢ Gardening
➢ Art Journal
➢ Inventor's Workshop (a maker's space filled with reclaimed materials, students can create whatever they wish with the available materials)
➢ Outdoor and indoor Games
The new VCS summer program will be an 8-week program beginning June 11 and running until August 3rd. The program will be from 8am to 5:30pm. Each week will be themed around a different ecosystem around the world. Of course, since this is Village there will be art, and music, hikes and other fun activities. Incoming students (Kinder and up) will be welcome to participate.
Summer Admission Agreement | Summer Program Details
Help Wanted
Donations and Volunteer Support Needed
Jars Needed
The PA is looking to the community for jars - about 32 oz size with no labels. Mason jars are great. Lids are not required. We are looking use these as vases for the flowers for teacher appreciation week in May.
Garden Group
It's time to get the garden growing! Have you noticed that our beautiful village garden is beginning to take shape? Come and join us on Friday afternoons at 2:00 for some gardening fun! Weather permitting. Also, we are looking for pots or planters of any shape or size if you have any extras lying around.
Monte Rio Triathlon
Sunday, June 10 - Volunteer needed. MONTE RIO TRIATHLON. Our school has a chance to support runners at a station and get a grant for the school.
"Hi, I'm recruiting volunteers for the Monte Rio Triathlon, next June 10th, 2018 from 7:00 am to 11:00 am. The volunteer's job is at the Run Aid Station #2. The run aid station #2 will be located in Moscow Road (mile 2.5). Volunteers will be passing out Gatorade, water, and energy gel products to the athletes. All supplies will be delivered to your aid station. Volunteers will also be responsible for set up and clean up of the aid station. Race staff will pick up all supplies and bagged garbage after the race is finished.
If you are interested in volunteering for this event please click here. Once in the site, go to June 10th Run Aid Station #2.
Please let me know of any questions you have. I would like to get all volunteers signed up ASAP :-). If you know someone who is or may be interested to join our team of volunteers, feel free to forward this message."
Order Yearbooks
Don't forget to get your order in for your yearbook! Pick up order forms in the office or follow this link to place your order and customize 2 free extra pages for your child's copy: https://www.treering.com/validate?PassCode=1014724174042747
Your personalized yearbook only costs $20.00.
Yearbooks are printed on high quality 100% recycled paper in beautiful full color.
For each VCS yearbook sold, Trees for the Future plants a tree in our school's name.
Complete your 2 free custom pages no later than April 23.
Custom pages are optional, if you don't customize you'll receive a standard yearbook.
Order your yearbook by May 7 to get free bulk shipping with the rest of VCS!
Photos Wanted
The Yearbook Staff could always use additional photo coverage! If you take photos at school events, on field trips, or even of just regular campus activities and classwork, please email them to emmakerfoot@gmail.com any time throughout the school year, or drop them off in person on a memory card, flash drive, or CD. Presently, our greatest photo needs are:
Field Trips!
Gardening
Recess/Games/Sports
Music
Spanish
Drama/Plays
Visual Arts (drawings, paintings, collages, etc.)
Projects (dioramas, labs, etc.)
Upcoming: Creek Clean-a-Thon

Appreciations
Have an appreciation you wish to make? You can email it in by Friday morning or just stop by the office and drop off a note in the orange Appreciation Jar and it will get added to the next Bulletin.