Dates at a Glance
Monday, 5/3—Start Added Short Day Schedule
Friday, 5/14—No School
Tuesday, 5/18—Board Meeting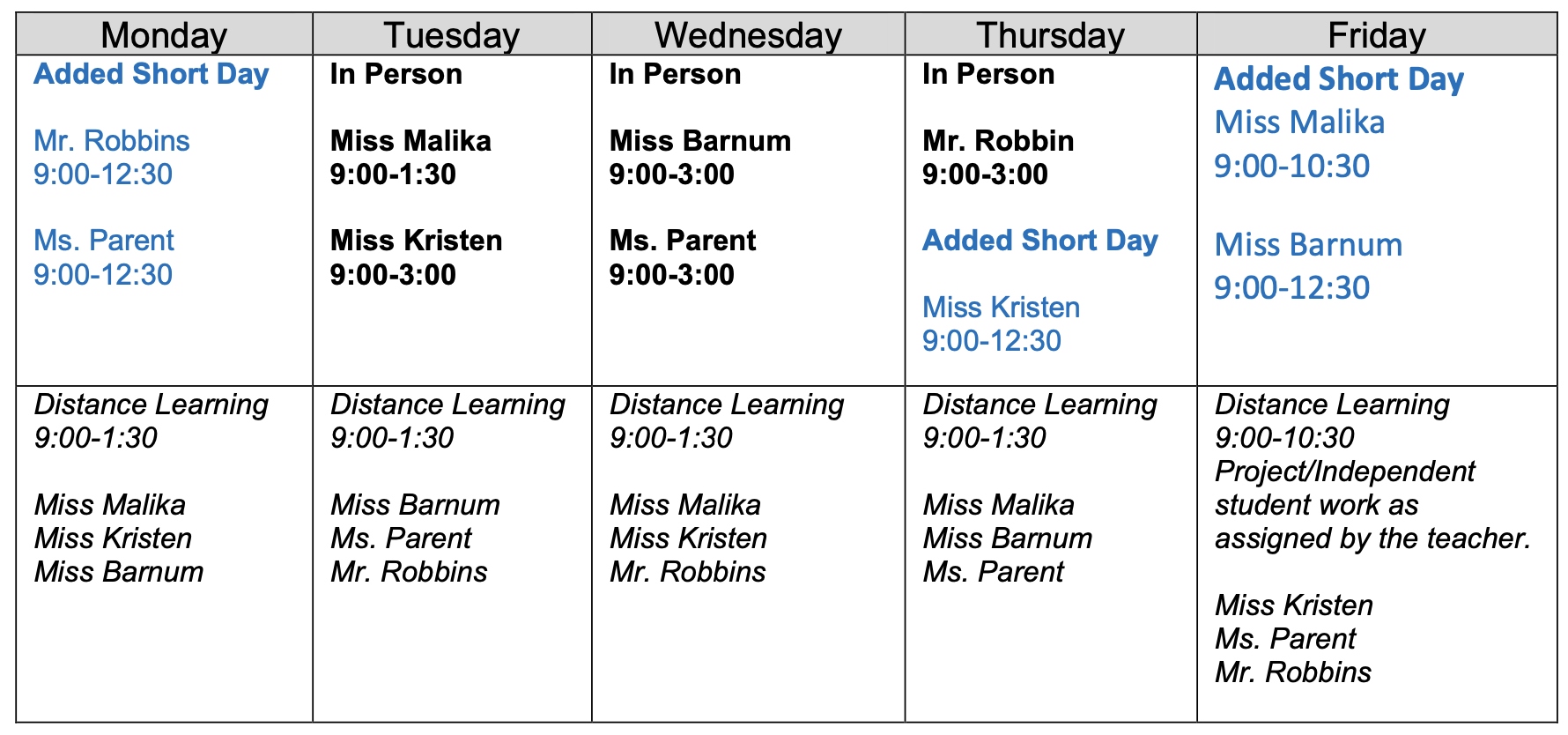 Please contact Rebecca at rlivanoff5@gmail.com if you have questions.
We can no longer have parents come onto campus on Fridays. All packet pick-up/drop-off will be coordinated with your child's in-person day(s). Parents can come onto campus to pick-up/drop-off school work after 5:00PM and on weekends.
**Extra Home Health Screening forms can be found on the table outside the office**
Can you help a VCS Family in need?
Dear Friends and Family,
As many of you know, our dear cabin on Channel Drive suffered a devastating structure fire on Tuesday. The house sustained catastrophic damage. We are safe and well at a friend's house in Sebastopol. All of our animals are safe and well. We are surrounded by many offers of love, care and support. Our immediate needs are attended to. The cause of the fire is still under investigation. Preliminary evidence points to an electrical malfunction in the kitchen. We'll know more soon.
Our main need right now is to secure a rental house. We hope to find a place to live for the next 12 months or more. Specifically, we are seeking a pet-friendly, kid-friendly, three-bedroom house that is not too far away from Channel Drive and our kids' school (Piner & Fulton). People say it may be a good idea to stay close to our old neighborhood. We are open, but not limited to that idea. Santa Rosa or Sebastopol would be preferred. Please let us know if you have any leads. Thanks for cc'ing both Nick and Meg in your response. Megmariehamill@gmail.com and nicksimmonsmusic@gmail.com
Nick, Meg, Ava & Leo
2021-22 School Calendar
Attached is the 2021-22 school calendar. Please note that our school start time will change to 8:45 AM for all grades. Spring break as marked is tentative. We will confirm that week once other county schools have posted calendars. Dates for festivals, PA events, morning circle, etc. will be determined once we have clarity what is allowed regarding larger, in-person gatherings.
Coco and Mr. Matt will be offering VCS Summer Camp beginning June 16, 2021. The sooner people commit to our summer camp, the better we can plan and prepare. If you need financial support, please contact Rebecca.
Cost: $1000-full summer; $350-2 weeks or 10 day drop off; $200-single week or 5 day drop off.
Yearbook
The 2020/2021 VCS Yearbook needs photos!
Email all of your VCS 2020/2021 photos to
erobbins@villagecharterschool.com
. Please include the name(s) of students pictured and additional caption information if needed.
Support Our Community, Create More Connections
VCS wants to support our families' small businesses by sharing your business information with the community. Please fill out this Google form or print the form and email to Rebecca with your business information (applies to both if you own the business or you are an employee). Your business information will be announced on the VCS web page and Facebook.

https://ameliachapman.cabionline.com/ Amelia Chapman

http://www.cornerprojectales.com The Adamian Family


https://www.artandsoulschool.com The Kushins Family



https://bohemianroots.net/ Lauren Racusin McSweeney



http://brandflowmarketing.com Naomi Catalina



https://wildsageyoga.com/ Deneene Bell