Dates at a Glance
Monday, May 31st —Memorial Day—No School
Friday, June 4th —Kindergarten Class Art Installation
Week of June 7-11—See Last Week of School Schedule Below
Friday, June 11th —8th Grade Graduation 6:00PM on the field under big tree.
Schedule for Last Week of School
DROP OFF: Older siblings arrive with younger siblings
8:30-8:45: Mr. Robbins, Ms. Parent
8:45-9:00: Miss Malika, Miss Kristen, Miss Barnum

PICK UP: Older siblings leave with younger siblings
12:50-1:00: Miss Malika, Miss Kristen, Miss Barnum
1:00-1:15: Mr. Robbins, Ms. Parent

School Photos
Here is the link for the 20/21 school year student pictures.
Click on the thumbnail of your child and download the full-size image. You can then have it printed via
your preferred service. (Snapfish, Shutterfly, Amazon Print, etc.)
https://www.villagecharterschool.com/portraits2021/ (see email for password)
8th Grade Graduation
When: Friday, June 11 th at 6:00PM
Where: VCS Field under the big tree
Front row seating will be designated and spaced for graduate's family
Other guests = one blanket per household on designated and spaced spots
Temp and screening prior to entering. MASKS REQUIRED, no exceptions
The 2020/2021 VCS Yearbook needs photos!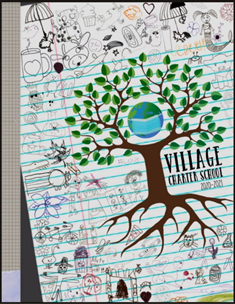 Yes, the 2020/2021 VCS Yearbook still needs photos!
We're still accepting photos through May! Do you have a picture of the first day of Zoom school? What about the first day of In Person school? Show us pets joining in on distance learning, screenshots of virtual classes and festivals, artworks and culinary creations, remote study spaces, hobbies, homework, everything!

Email all of your VCS 2020/2021 photos to erobbins@villagecharterschool.com. Please include the name(s) of students pictured and additional caption information if needed.
Have you ordered your yearbook yet?
Place your order by the end of May! This year's beautiful student-made yearbook features doodles drawn by hand from students in every class.
(If your child hasn't provided any doodles yet, there's still time! Have them use pen on plain white paper, take a photo and send it to Emma.)
The standard yearbook costs just $20 (hardcover upgrade available for an additional $7) and includes two free customizable pages for your child to fill with their favorite memories. For each yearbook purchased, a tree is planted in our school's name.

Order Here: https://www.treering.com/validate?PassCode=1014724174042747
Coco and Mr. Matt will be offering VCS Summer Camp beginning June 16, 2021. The sooner
people commit to our summer camp, the better we can plan and prepare. If you need financial
support, please contact Rebecca.
Cost: $1000-full summer; $350-2 weeks or 10 day drop off; $200-single week or 5 day drop off.
Use our online credit card payment option! ourschool.support/VCSSummerCamp2021
2021-22 School Calendar
Attached is the 2021-22 school calendar. Please note that our school start time will change to 8:45
AM for all grades. Spring break as marked is tentative. We will confirm that week once other
county schools have posted calendars. Dates for festivals, PA events, morning circle, etc. will be
determined once we have clarity what is allowed regarding larger, in-person gatherings.

Service Opportunity
Possible service project! Collect acorns and bring hard-boiled eggs to the wildlife rescue - seems like a
very safe and distanced opportunity to do some good!
Sonoma County Wildlife Rescue | 707-992-0274
support@scwildliferescue.org | www.scwildliferescue.org
Thank you, Donata, for this service suggestion!

Appreciations
Thank you, Cassidy Walton!!! You have been such a gift to the students and teachers. There is so much we could not have done without your help. AND, Nate, it is a joy watching you work with the kids!