Dates at a Glance
Friday, 5/14—No School
Tuesday, 5/18—Board Meeting

Please contact Rebecca at rlivanoff5@gmail.com if you have questions.
We can no longer have parents come onto campus on Fridays. All packet pick-up/drop-off will be coordinated with your child's in-person day(s). Parents can come onto campus to pick-up/drop-off school work after 5:00PM and on weekends.
**Extra Home Health Screening forms can be found on the table outside the office**
Teacher Appreciation Week at VCS
Hello, Village Families!
It is time to say "Thank You" to the exceptional Village Charter School teachers.
The PA and the Board are planning several activities for the teachers next week and we need your support. We are not posting all the activities to keep some of them a surprise.
· Letters, poems, drawings. So, what a better moment to shower them with appreciation letters, poems, drawings. These appreciations and artwork can come from kids AND parents! We are sure your words of appreciation will make our teachers very happy, and will encourage them to continue making a difference in our child's life.
· Please encourage your kid(s) to bring their appreciation letters on the day they are in school and personally hand them to their teachers.
· Lunch for the teachers and extended staff from a local business - VCS families interested in donating some money to help cover the costs of the lunch can hand a check or cash to Rebecca at drop off.
Please note below the name(s) of teachers and additional staff members that you might want to write an appreciation note for.
Office
Rebecca Ivanoff
Carolyn Jensen
Teachers
Bonnie Barnum
Kristen Pearce
Malika Harville
Rachael Parent
Travis Robbins
Kellie Gurule (RSP)
Jessica Lickey (SP)
Aides
Jessica Jensen
Francisco Palmerin
Matt Heath
Sage Winter
Emma Robbins
Cheers and gratitude. Stay safe and be well,
The VCS Board & Parent Association
2021-22 School Calendar
Attached is the 2021-22 school calendar. Please note that our school start time will change to 8:45 AM for all grades. Spring break as marked is tentative. We will confirm that week once other county schools have posted calendars. Dates for festivals, PA events, morning circle, etc. will be determined once we have clarity what is allowed regarding larger, in-person gatherings.
Coco and Mr. Matt will be offering VCS Summer Camp beginning June 16, 2021. The sooner people commit to our summer camp, the better we can plan and prepare. If you need financial support, please contact Rebecca.
Cost: $1000-full summer; $350-2 weeks or 10 day drop off; $200-single week or 5 day drop off.
The 2020/2021 VCS Yearbook needs photos!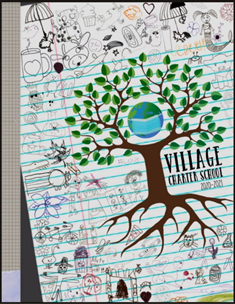 Yes, the 2020/2021 VCS Yearbook still needs photos!
We're still accepting photos through May! Do you have a picture of the first day of Zoom school? What about the first day of In Person school? Show us pets joining in on distance learning, screenshots of virtual classes and festivals, artworks and culinary creations, remote study spaces, hobbies, homework, everything!

Email all of your VCS 2020/2021 photos to erobbins@villagecharterschool.com. Please include the name(s) of students pictured and additional caption information if needed.
Have you ordered your yearbook yet?
Place your order by the end of May! This year's beautiful student-made yearbook features doodles drawn by hand from students in every class.
(If your child hasn't provided any doodles yet, there's still time! Have them use pen on plain white paper, take a photo and send it to Emma.)
The standard yearbook costs just $20 (hardcover upgrade available for an additional $7) and includes two free customizable pages for your child to fill with their favorite memories. For each yearbook purchased, a tree is planted in our school's name.

Order Here: https://www.treering.com/validate?PassCode=1014724174042747
Tick Checks!
This is proving to be a bad tick season! With all the time we are spending outside and in the garden, we encourage you to do tick checks after your child's in-person days.
Student and Family COVID-19 Vaccine Clinics May 8 and 12
Two COVID-19 vaccine clinics for Sonoma County students age 16 and older, as well as their families, will be offered on Saturday, May 8 at Elsie Allen High School and Wednesday, May 12 Sonoma Valley High School.

The clinics are the result of a partnership between Sonoma County Office of Education (SCOE), Safeway, Sonoma County Department of Health Services, and Sonoma County school districts that have offered to host clinics. They were developed in response to a need identified by SCDHS to provide more opportunities for the youth of Sonoma County to be vaccinated.
These clinics are open to all Sonoma County students age 16+ and their families.
Scoe.org/vaccines has all the information on the flyer and the press release
Appreciations
Thank you, Coco, for the very sweet treat this morning. You brightened the day for all of us
Support Our Community, Create More Connections
VCS wants to support our families' small businesses by sharing your business information with the community. Please fill out this Google form or print the form and email to Rebecca with your business information (applies to both if you own the business or you are an employee). Your business information will be announced on the VCS web page and Facebook.

https://ameliachapman.cabionline.com/ Amelia Chapman

http://www.cornerprojectales.com The Adamian Family


https://www.artandsoulschool.com The Kushins Family



https://bohemianroots.net/ Lauren Racusin McSweeney



http://brandflowmarketing.com Naomi Catalina



https://wildsageyoga.com/ Deneene Bell