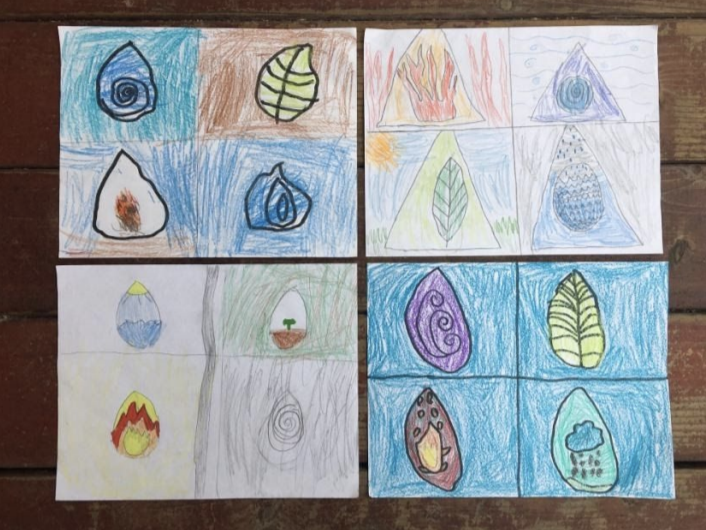 Element Art in Miss
Kristen's Class by Ousei,
Eva, Leo and Jasmine

Dates at a Glance
Tuesday, Sept 15 - Board Meeting via Zoom
Saturday, Sept 19 - International Clean Up Day
Friday, Sept. 25 - No School - Hoedown
Note from Rebecca
Two and a half weeks down! I want to thank all the parents and students for your flexibility, patience and generosity of spirit. None of this is easy, but in true VCS fashion, we are doing it with grace, efficiency, and kindness.
I also want to thank the PA for hosting a wonderful meeting on Thursday. We had a great turnout and my soul was renewed.
And, finally, THANK YOU to the VCS Teachers and Staff. You are amazing. I am in awe of what you do everyday.
Packet Pick Up
THE MOST IMPORTANT THING YOU CAN DO TO ENSURE YOUR CHILD'S SUCCESS DURING DL (after making sure they are logged in at 9:00am)--Pick up the weekly packet! Everything your child needs for the week is in the packet that is available for pick up on Friday (and it's there anytime during the weekend). If they don't have this material, it is very hard for them to be successful.
If you cannot pick it up, please make arrangements for us to drop it at your home.
Registration
If you received an email asking you to log in to the Aeries Parent Portal to complete your child's registration, please do so ASAP. This email only went out to those who did not go through the entire process.
Send an email to vcsaeries@gmail.com if you have any problems.
Print and return the emergency card and PPP form when completed. All other forms only require an approval/denial check.

A Glimpse into the Classrooms
Please take the time to look at the attached glimpse into the classrooms, and see what everyone has been up to the past few weeks!
City of SR Creek Week, 35th International Cleanup
Let's rock this, VCS!
Hello dear VCS,
I thank you for your devotion to our school and our community, what a challenging time we are going through and rising above with your help! I also thank your spirits for creating a school that cares through action, truly you are the school of my dreams!
This year marks the 35th annual international cleanup... 122 countries participated last year... It is such a special event to join MILLIONS in caring together all over the world... Lots of places are actually making a week or month out of it as well.
Starting September 19th, check out the all virtual SR Creek Week resources I have helped to develop, lots to do for all ages. Here's that link for you and to share… https://srcity.org/2290/Creek-Week-2020

Here's to making a difference together!
Stephanie Lennox
Appreciations
Have an appreciation you wish to make? You can email it in by Friday morning to bulletin@villagecharterschool.com and it will get added to the next Bulletin.
Huge shout out to B2! Thank you for making Distance Learning so fun and rewarding, and for working so diligently to make the garden such a magical place to play when we stop by! ♥ - Shaina
The 19/20 yearbook staff did an awesome job on the yearbook! - Pleasant & Ava