Malika Harville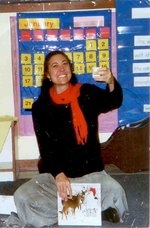 Malika Harville earned her BA in Environmental Education and California Teaching Credential from Sonoma State University. She also has a Multiple Subject California Credential (CLAD with Special emphasis in English and ESL) and is certified in Gesell Institute Developmental Assessments. Prior to joining VCS in 2002, Malika taught preschool for twelve years and worked for ten years in Montessori education. In recent years Malika has completed additional coursework in developmental growth and readiness. She is a lover of the outdoors and activities involving the natural world, and enjoys bringing her interests into the classroom to help students explore and nuture their connections as well.

A look into our classroom...
The Village Charter School offers an optional two-year kindergarten program based on developmental readiness. It is a child-centered environment, where each child is given the opportunity to reconstruct the world around them through play, social interaction, group activities, and self-chosen projects. Children engage in cooking, dancing, gardening, singing, music, rhythmical gestures, movement, and play performances. The kindergarten curriculum is designed to enhance the young child's physical, social/emotional, academic and spiritual development. The harmonious daily rhythms strengthen the child's sense of security, self-confidence, imagination, and creativity. The children are encouraged to and have the freedom to navigate through self motivated academic challenges. Nature activities, festivals and seasonal rhythms connect the child to the world and nurture a sense of caring for the environment and for others. VCS believes that kindergarten is not yet a time to expose the child to academic pressures; rather it's a time to preserve childhood, allowing the child to unfold in his or her own unique time. The kindergartners' play is their work, and it is the teacher's job to recognize when the child is moving from one developmental stage to another and support the child in new ways. Embedded in the program, students work on grade level standards and skills through an enriched, child-centered curriculum.